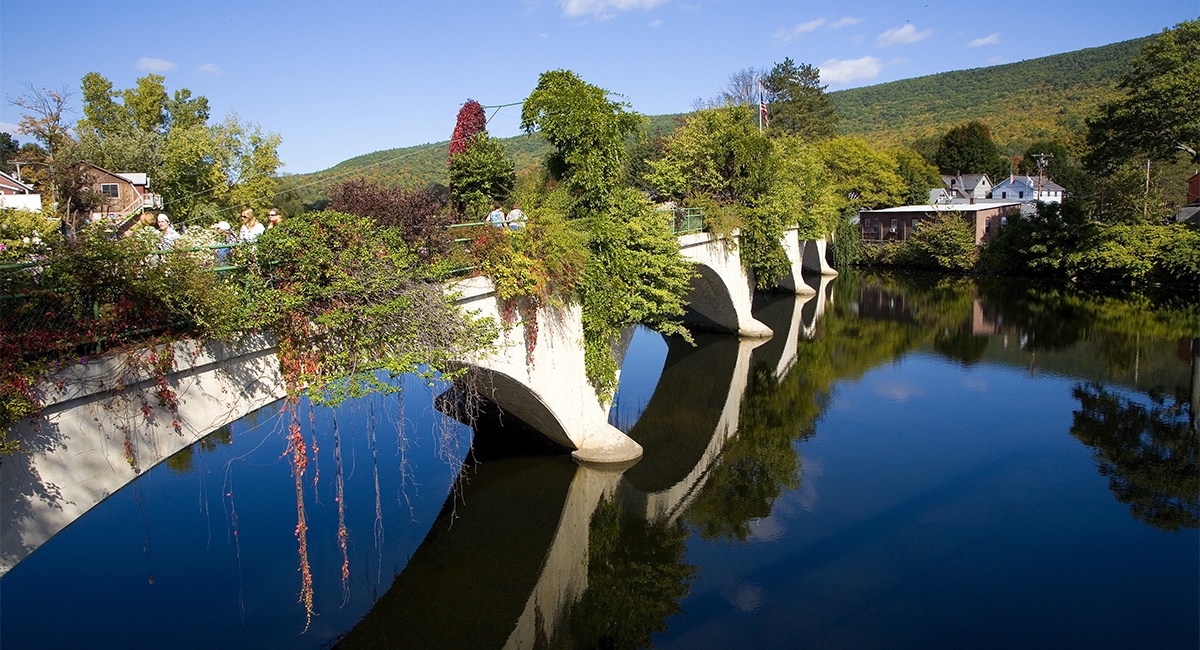 Three Road Trips to See Incredible Public Sculpture Gardens Across New England
From a topiary garden to a Dr. Seuss park and more.
Claude Monet had his water lilies. Georgia O'Keeffe couldn't leave the deserts of New Mexico. And here in New England, our mountains, forests, prairies and beaches have dazzled generations of artists. But sometimes the landscape itself serves as a gallery for New England artwork. From the Connecticut coast to Appalachia, sculpture gardens and outdoor art collections are among New England's most illustrious recreational offerings. Why not visit these rustling kingdoms that have inspired and hosted centuries of art? These regional road trips will take you to some of the most enchanting outdoor art galleries in our corner of the country.
Trip #1: Boston to Williamstown, Stockbridge and Springfield MA (317 miles)
Take Route 2 for a more scenic route through the hills and valleys of Western Mass. Stop for sandwiches and salads from Shelburne Falls Coffee Roasters in Shelburne Falls and bring your lunch to Bridge of Flowerswhere gardeners turn seasonal flowers into a colorful work of art alongside an old overhead crane over the River Deerfield.
Ascend into the Berkshires via the hairpin bends of the 'Mohawk Trail' and drive west to the Clark Institute of Art. Nestled in the verdant hills of Williamstown, the Clark has an extensive collection of European and American paintings, prints and decorative arts. But equally impressive are the woods of the institute. Gentle paths lead you to permanent and rotating sculpture installations on the grounds of Clark, such as Thomas Schütte's alien-esque Crystal structure before taking you back to the beautiful reflecting pool in the courtyard of the museum. At sunset, drop off your luggage at Williams Innwhere Barn offers a tantalizing gastropub menu with specialties such as vegetable-laden kombu dashi ramen and plenty of seasonal libations.
The next morning, head south on Route 7 along the Berkshires' spine to Stockbridge and enjoy a Greek omelette at the Main Street Cafe before exploring Chesterwood. The lush estate of late American sculptor Daniel Chester French spans 122 acres and features pathways through perennial gardens with French-designed sculptures, reliefs, fountains and decorative benches. Be sure to leave time for a stop in Springfield for peppery burn ends at by Theodore and a more contemporary outdoor art exhibition – the Dr. Seuss National Memorial Sculpture Gardenwhere you can gaze at a life-size Lorax and reflect on the power of the natural world.
Trip #2: Boston to Lee, Cornish and Brookline, NH (533 miles)
Set the GPS for New Hampshire, but instead of taking I-93 straight to Concord, head to the quiet coastal village of Lee, the hometown of Robert Eggers, director of The man from the north and The witch— and enter bedrock gardens, where strange figures sculpted from metal and scrap metal inhabit the pines of the aptly named "Dark Woods". This little Gothic sculpture garden is a neat homage to New Hampshire's literary and film history as a horror setting in the woods.
Leave the Haunting Forest heading northwest towards Concord, pass The pass kitchen for a lunch of nutritious plant-based dishes like chana masala, and continue on I-89 North to the Connecticut River which runs along the Vermont-NH border. Here in the Cornish Hills you will find Saint-Gaudens Historical National Park, the estate of Civil War-era sculptor Augustus Saint-Gaudens (he designed Boston Common's Shaw Memorial with the all-black 54th Mass Regiment.) The estate's sunny lawns and preserved studios feature some of the most Prized bronze and marble sculptures set against sweeping views of nearby Mount Ascutney, and the adjacent woods contain a charming path in the ravine where Saint-Gaudens used to swim in a pool below several waterfalls.
As the magic hour paints the landscape gold, look back on the New London hostelgrab a cozy room and enjoy savory pub food, frothy craft beers and sunset mountain views at The flying goose. You will need extra fuel for the next morning when you have coffee and pastries Blue Loon Bakery before heading south through the woods of the Merrimack Valley and wandering the trails of the Andrés Art Institute, where nearly 100 sculptures are staged around the mossy woods of Big Bear Mountain, which founder Paul Andres purchased in 1996.
Trip #3: Boston to Coventry and Old Lyme, CT and Portsmouth, RI (272 miles)
Cross Connecticut on I-84 South, but leave the New York crowds behind and head south into the hills and farmlands of Tolland County for a serene ride amid the Sculpture Fields by David Hayes. Named after the Hartford-born sculptor whose colorful welded-steel works have appeared in galleries at the Guggenheim and MoMA, the sculpture fields are essentially pastures for the creations of Hayes, who now presides over hay meadows, a pond and an old orchard which are open to the public for wandering.
From there, things heat up as you drive south and sense the brackish sea breeze off Connecticut's beaches and shoreline. Head west for Old Lyme, refuel with hearty focaccia sandwiches or pasta Sapore Italian Pizzeriaand once the last bites have been savored, enter the verdant expanse of Studio 80 + Sculpture land, where 66 contemporary works of art by Gilbert Boro and a rotating roster of guest artists are installed in courtyards and gardens along the Lieutenant River. At dusk, stay on the water with a drive east along the coast to Mystic for a dinner of maritime bites at S&P Restaurant and Oyster Barand fall asleep to the sound of the water lapping Steamboat Innlocated directly on the Mystic River.
The trip back to Boston begins with a Westerly, Rhode Island jumper to At Christine's for decadent dishes like Belgian waffles with strawberries and whipped cream. But rather than stay on I-95, cross the Claiborne Pell Bridge to Newport and discover a living form of outdoor artwork at the Green Animal Topiary Gardenwhere around 80 king-sized creatures have been shorn and manicured for your viewing pleasure.
---