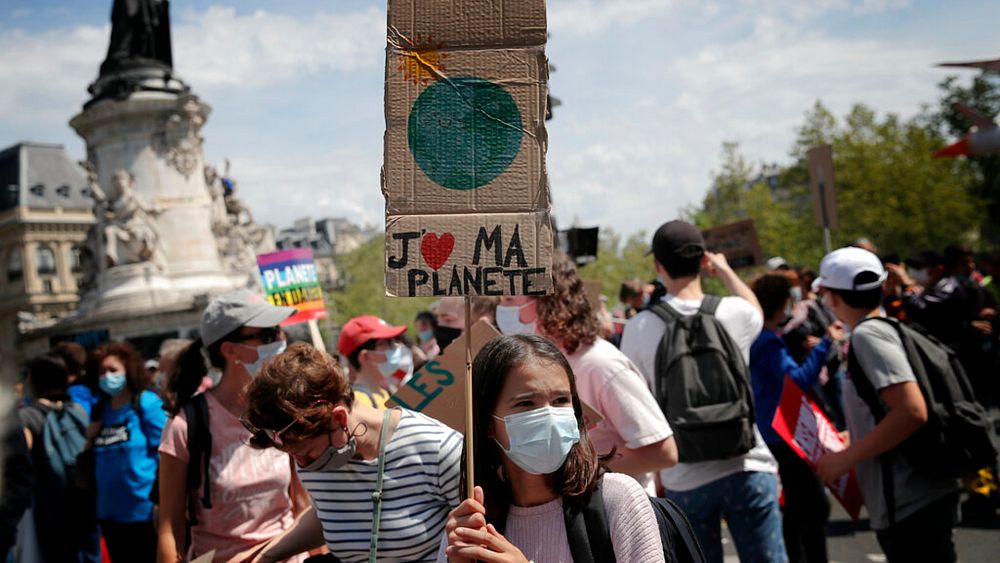 The new French climate law has just been approved. So why are activists so unimpressed?
[ad_1]
France has just passed a climate law aimed at reforming the transport, housing and food sectors, but environmental activists say it is not going far enough to reduce carbon emissions.
Tuesday's vote comes after devastating floods in Germany and Belgium which, according to many experts, is a classic example of extreme weather conditions caused by climate change.
A panel of 150 citizens summoned by French President Emmanuel Macron has worked for months to make recommendations for the legislation, but critics complain that the president has weakened their proposals. Months of quarrels in the two chambers of parliament have diluted them even more.
However, the final version of the text includes provisions to gradually eliminate polluting vehicles, accelerate the renovation of energy-intensive buildings and limit plastic waste.
French Minister for Ecological Transition Barbara Pompili said the legislation marked a "cultural change", placing environmental concerns at the heart of the lives of French citizens.
So what will this law actually change?
Fight against automobile pollution
By 2025, French cities of over 150,000 inhabitants will have to create low-emission zones with tighter speed limits and restricted access for some of the oldest and most polluting vehicles, whether they run on diesel. or gas.
Experts believe that about a third of cars currently on French roads would be excluded from these areas.
Some of the most polluting vehicles will also be banned from circulation from 2030.
No need to jump on the plane anymore?
The law aims to wean some travelers from planes and get them on low-carbon rails. Domestic flight routes will be discontinued if a train can reach that destination in less than 2.5 hours.
But there will be exceptions, and environmental activists say the devil is in the details.
The citizens' assembly recommended eliminating flights for journeys that can be made by train within 4 hours. Greenpeace says reducing that time to 2.5 hours will affect just a handful of the country's 100 or so air routes, significantly eroding the law's environmental impact.
Carbon footprint labels
The law aims to introduce compulsory "environmental labeling" of goods and services, with an emphasis on highly polluting sectors such as the textile industry. The main objective of the labels would be to set up a "carbon score" informing consumers of the environmental footprint of their purchases.
The law will also be ban advertisements for fossil fuels, and, from 2028, ban advertisements for the most polluting vehicles (emitting more than 123g of carbon dioxide per kilometer).
Penalties for poorly insulated housing
Rents will be capped for apartments and houses with the least performance in terms of energy efficiency, also called in France "thermal screens". These represent around 5 million dwellings across the country.
From 2025, homes with an energy efficiency rating of F or G – the worst possible score – will no longer be considered decent homes, and owners will have to renovate them before they can legally re-let them. From 2034, the rental ban will also apply to housing classified E.
Vegetarian meals in schools
For Greenpeace France, the only real positive step forward from the climate law is its effort to encourage a more plant-based diet.
By 2023, school canteens will have to offer an exclusively vegetarian menu at least once a week. In all public administration buildings, canteens will have to offer vegetarian options every day.
"Very disappointing"
The French government says the legislation will help France meet its goal of reducing greenhouse gas emissions by 40% by 2030 from 1990 levels.
But many environmental activists say it's just not ambitious enough, especially now that the European Commission has unveiled its Package "Suitable for 55 years" to reduce carbon emissions by 55% by 2030.
WWF France called the final version of the law "far removed from climate goals and citizens' expectations" while Greenpeace called it "extremely disappointing".
An independent advisory body on climate change as well as France's highest administrative court, the Council of State, have both already expressed serious concerns about the government's ability to honor its commitments under the Paris agreement. on the climate of 2015.
The Council of State even threatened the government with a fine of 10 million euros per semester if it does not take more decisive action against air pollution.
[ad_2]