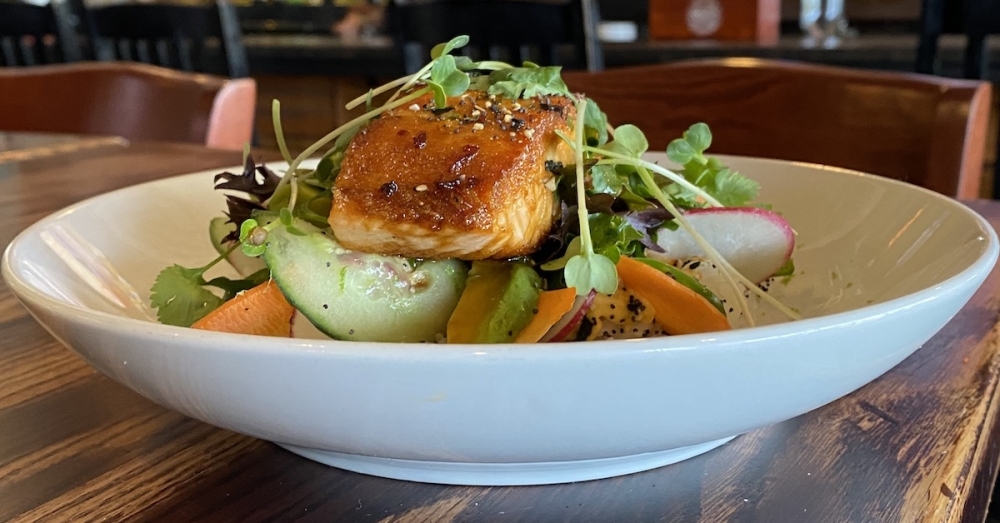 The Lakewood Hillside Tavern restaurant offers a unique bar experience
In addition to traditional bar fare, Hillside Tavern sells a variety of Asian-inspired dishes, including the Sweet Chilli Seared Salmon Bowl ($25). (Jackson King/Community Impact Journal)
Hillside Tavern co-owners Bradley and Brooks Anderson have always dreamed of owning their own restaurant.
The brothers spent their college years learning to be lawyers, but never gave up on their culinary aspirations.
"We probably spent more time in law school talking about opening a bar and restaurant than we did in our classes," Bradley said.
Although they have full-time jobs as lawyers, the Andersons entered the restaurant industry in 2008 with the opening of the Veritas Wine Room in Dallas' Knox-Henderson entertainment district. The Andersons then expanded with French restaurant Boulevardier in 2012 and neighborhood bistro Rapscallion in 2015.
The Andersons launched their new restaurant, Hillside Tavern, in 2019 with co-owner Nathan Tate. Located in the Lakewood neighborhood of Dallas, the Tavern is more casual than the Andersons' other restaurants.
"We just wanted a nice friendly neighborhood bar that has amazing bar food," Bradley said. "It's not necessarily a sports bar, but we knew we wanted TVs here to show a lot of games. We have a lower price here than at Rapscallion or Boulevardier. »
Hillside Tavern offers unique flavors in its traditional bar food. Signature dishes include the fish and chips, the Reuben sandwich, and the chicken and lettuce wraps.
Bradley credits the collaborative effort of Hillside Tavern's kitchen staff for providing quality food.
"We have a great core of employees and staff who have been with us for a number of years," Bradley said. "[Our chefs] come up with wacky burger ideas based on different themes."
Tavern chef Josh Wenneson said he was self-taught.
"Bar food with hints of Asian flavors and fine dining made sense," Wenneson said.
Hillside also includes an "elevated wine list" and a vibrant cocktail program, Bradley said.
Bradley said the company is in the process of remodeling its patio. Work should be completed by June 1, he said. Plans include adding a cover, turning the exterior wall into a sliding door, and adding electricity as well as heating and air conditioning.
Hillside Tavern
6465 E. Mockingbird Lane, Ste. 386 Dallas
214-888-0152
Opening hours: Tue-Wed. 4pm-10pm, Thu.-Fri. 4pm-11pm, Sat 11am-11pm, Sun 11am-9pm, Mon closed