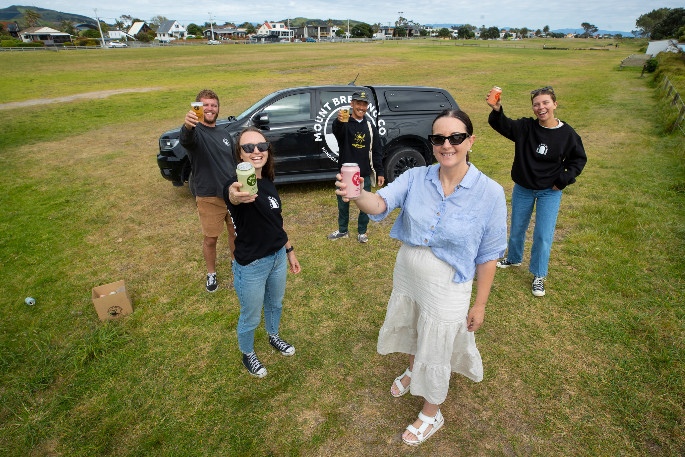 SunLive – Dinner in Papamoa and Matua
It's a warm summer evening in Papamoa, people line up eagerly as the smell of delicious kai wafts in the breeze.
After a two-year wait, Dîner au Domaine returns next week, with food trucks ready to fill the belly of the community for the crazy season!
Rachelle Duffy, Director of Little Big Events, couldn't be more thrilled to have this cornerstone of summer in the Bay of Plenty.
"It's such a great feeling because before Covid the event was really a success…it was very busy and we had at least 2000 people showing up.
"I think we've all been pretty resilient over the last two years without being able to do that, so I think we're really getting back to our roots," says Rachelle. "We're just making sure we have a variety of food and hopefully we'll have some nice sunshine."
Something for everyone
Speaking of the menu, Rachelle says any type of food you can think of will be on offer.
"We have French food, we have Mexican, American barbecue, healthy options and vegan options.
"We just try to make sure we have a mix of sweet and savory."
When asked which food truck she will line up at first, Rachelle replies, "It's such a hard decision because I love them all! However, she notes the taco joint, Tacos Tocayo.
"They're going to be street newbies with us, which is really cool, so I definitely want to try their authentic Mexican tacos for sure."
Matua on Sunday
Rachelle would also like to highlight Dinner in the Park, which is exactly the same as Dinner in the Domain – just at a different location based in Matua.
"We also want to meet the needs of our Otumoetai whanau," says Rachelle.
With local Mount Brewing Co serving the drinks and playing live music, Rachelle says the atmosphere is great at the dinner series events.
We kind of have these mini festivals every Thursday and every Sunday, which is really fun.
Beginning Thursday, November 3, Dinner at the Estate will be held every Thursday through Thursday March 2023, from 5-8:30 p.m. at the Papamoa Pony Club, 491 Papamoa Beach Rd.
Dinner in the Park will be held every Sunday from Sunday November 6 to Sunday March 26, also from 5:00 p.m. to 8:30 p.m. at Matua Park, Hall Rd, Matua.