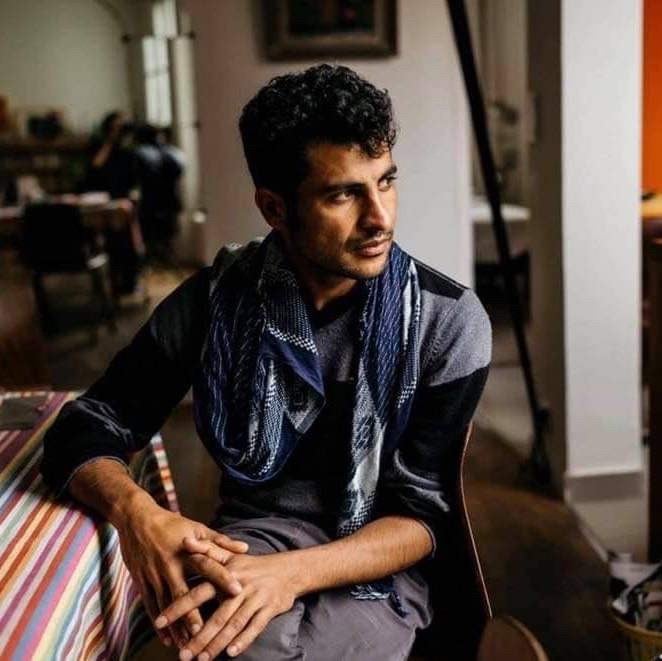 Showing the desperation and beauty in the lives of migrants
[ad_1]
Five years ago this month, French authorities dismantled the vast Calais migrant encampment known as the "Jungle", dispersing hundreds of men, women and children to refugee centers in across the country. But because the appeal of northern France is its proximity to the UK, migrants returned to the region almost immediately.
Abdul Saboor, a 29-year-old photographer who spends much of his time in Calais, documented daily life in the settlements there and near Grande-Synthe, where people have faced massive evictions and other regular police harassment.
He met me in Paris, where he lives, to show me his work. He recovered a few images he took in February, when snow covered the ground and covered the tents and tarps that people used for shelter. "One day we were at the camp where a group of Afghan boys were staying, and we heard that some boys had missed the food distribution,†he told me. "We brought them bread and tea. It was so cold that day and they were really hungry.
Stopping at a photo of a woman and her two children, he said: "I photographed them as they went to get food. Their experience reminded me of when I was a refugee when I was a child.
I had been hearing about Abdul for months from the volunteers of the aid groups in Calais. They kept telling me that he is one of the few photographers who can win the trust of people staying in migrant camps in northern France.
It's not surprising ; he was in their place.
He was born as his mother fled Afghanistan for the relative safety of Pakistan, where he learned English and spent most of his childhood. After returning to Afghanistan, he worked as a NATO interpreter until the Taliban targeted him. "I received three bullets and my cousin was killed," he said. "My mother said it was time for me to go."
"I crossed the border with Iran, then I went to Turkey, Bulgaria, Serbia, Croatia, Slovenia, Italy", before finally reaching France, he told me. , a two-year trip.
In Serbia, "I saw all these volunteers come to help us. I thought, 'If I'm here, why can't I do that too?' So I started volunteering in a kitchen.
"One of the volunteers was walking around with a camera and I asked her about it. She told me she was making a documentary, â€he said. She finally gave him one of her cameras. He was high and needed a bit of coaxing to concentrate properly, but he was delighted.
He started shooting scenes from the life he was leading. "She told me about the importance of knowing your subject. Life in a refugee camp was a subject I was very familiar with.
His work is striking. As the announcement of an exhibition which included some of his photos from Serbia notes, "The contrast between … everyday gestures, captured in their simplicity and banality, and the abnormality of the situation, could not be stronger".
Abdul had not left Afghanistan with a specific destination in mind. "It seemed that no matter where I went, there was no place to welcome me. I didn't know I could apply for asylum. Eventually he met another Afghan who explained French asylum procedures to him and encouraged him to apply.
He went to Calais awaiting a decision. "It was really sad to be there," he said of the migrant camp where he stayed. "Life was so difficult for everyone. It was hard to believe it was Europe.
As he had done in Serbia, he started to help the volunteers. He spent most of his time with the Refugee Community Kitchen, with shorter stints at HRO, Utopia 56 and other groups, keeping his camera handy.
He often spends hours with the people he photographs, and he can relate in detail what he has seen and heard from them. Talking to me about a group of Malian boys he met in July, he described seeing one of the boys using the top of a metal box like a knife. "He looked like a good cook. He had certainly done this before.
The French authorities initially granted Abdul "subsidiary protection", a temporary status for people who risk torture or other serious harm in their country of origin. With the help of a lawyer, he was granted asylum, a process that lasted four years. "Waiting was the hardest thing,†he said. "I kept saying to myself 'What if I don't expect anything?' "
"People in the Calais camps have a lot of time to do nothing, so I offered to bring a projector to show films,†he told me. "It's something to distract them from their situation, something for them to do so that they don't always have to think about the police and how serious their life is."
When I met Abdul by phone in September, he was in Marseille with the theater company Good Chance, participating in the French part of The walk, a traveling exhibition that started in Turkey and ends in the UK.
Documenting the adversity and abuse that refugees and migrants regularly face is important, he told me, but he also wants to portray moments of hope and happiness, however fleeting they may be.
–
Saboor's photograph has been featured in several exhibitions, including one organized by the French Ministry of Culture. His photos are visible on his website and on Instagram.

[ad_2]