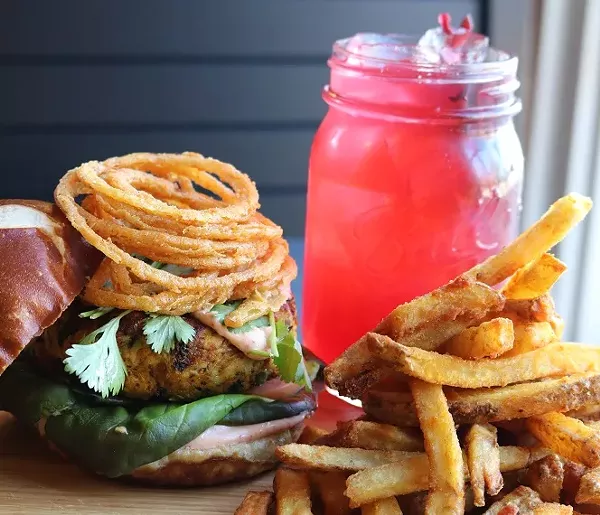 Shaker Square Vegan Club restaurant expands to include Sauce the City Galley in Ohio City
Last fall, a dual concept restaurant opened in the former Yours Truly space in Shaker Square. During the day, the Cleveland Breakfast Club focuses on breakfast, brunch, and lunch. Subsequently, the Cleveland Vegan Club (13228 Shaker Sq., 216-465-2054) takes over and offers a 100% plant-based Southern-style menu.
Things are going so well, says owner Shawn Wynn, that they will be opening a satellite location at Sauce the City Galley (1400 W. 25th St.) in Ohio City. The opening is scheduled for the next few weeks.
"We know we have a lot of vegan customers in this area who come here, so it will help get the word out to people in the area," says Wynn. "Additionally, we can use delivery services to reach residents of Lakewood, downtown, Ohio City and others."
Chef Porsche Phillips will import a scaled-down version of his popular East Side menu, but will expand hours to include lunch service for the first time.
Customers can look forward to entrees like chorizo ​​hush puppies, heart of palm "crab" fries and breaded oyster mushrooms. Salads include a Brussels sprout Caesar and grilled romaine with white French vinaigrette. In the soup category is sundried tomato soup with mini grilled cheese and a cauliflower soup with curry and coconut.
Sandwiches range from hot "chix'n" with oyster mushrooms, spicy mayonnaise and marinated jalapenos to Wild Philly loaded with sautéed wild mushrooms, mixed peppers and provolone. The Green Goddess Sandwich stacks fried green tomatoes and green goddess aioli in a pretzel bun.
Starters include fettuccine alfredo made with alfredo sauce made with cashew nuts, a bowl of black bean chili with wild rice, cilantro cream, pickled vegetables and green tomato salsa, as well as "chicken" and waffles.
For dessert, there are freshly baked oatmeal raisins, toasted coconut and chocolate chip cookies and a cashew cheesecake with caramel dolce de leche, fresh berries and a nut crumble.