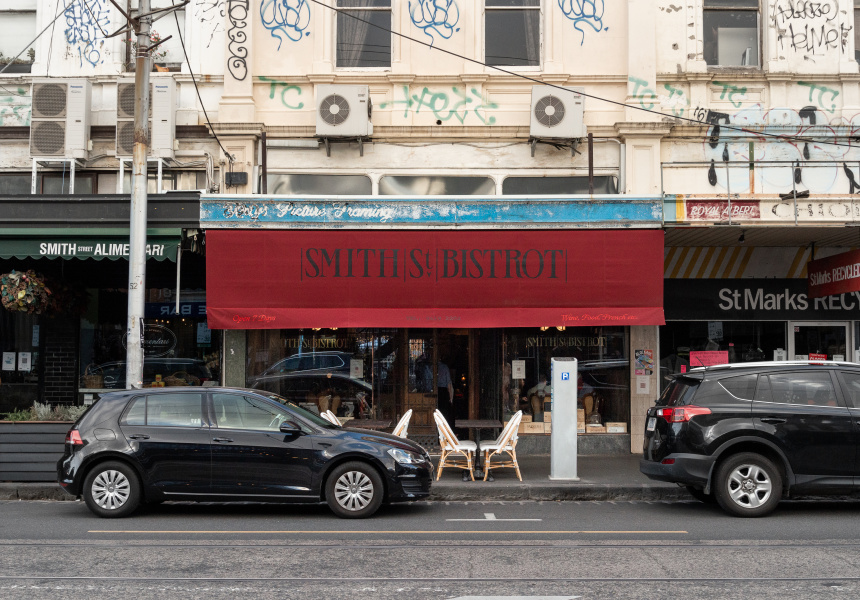 Scott Pickett's sexy French bistro is a Valentine's Day gift for Collingwood
It's been a busy few years for Scott Pickett. Between closings, the chef-restaurateur opened the CBD bistro Chancery Lane and its daytime counterpart The Shoppe, and he also stepped in to save the town's longtime restaurant Longrain. But now he is extending his reach to the inland north with the opening of Smith St Bistrot – romantically speaking – on Valentine's Day.
"I have a classic French background," says Pickett Large format. "I've always wanted to do a sexy French bistro, and I think Collingwood is the perfect place for that."
Describing itself as the "naughty little sister" to its two most recent openings, the bistro is bold and high-spirited while retaining the European charm of its siblings. It's on a site Pickett knows very well (it once housed his Lupo and Saint Crispin restaurants, as well as the Broadsheet Kitchen) but has been completely transformed.
"It feels like you've stepped into the 1920s or 1930s," says Pickett. "As if you had discovered something on the left bank of Paris in the alleys."
Designer Sarah Townson of Anthology warmed up the exposed-brick interior with cool moss, antique mirrors, Gothic chandeliers, and burgundy banquettes, which line the wall opposite the bar. It's stocked with all the ingredients of a classic Parisian cocktail bar (think Dirty Martinis and French 75s) and an extensive selection of French and local wines. "The list goes from $40 a bottle to $1,000," says Pickett.
Above the bar, there is an intimate mezzanine overlooking the lively dining room. With a few high tables, it's perfect for perching with a cocktail and a plate of oysters (plain, Kilpatrick or Rockefeller). For something a little more luxurious, there's also a caviar service: two varieties (including Beluga) come with blinis and traditional garnishes for $250.
Follow the restored spiral staircase to the top floor to find a lavish private dining room that feels like it's been transported from another time. It is adorned with a large skylight, floor-to-ceiling windows covered in velvet curtains, a hand-painted mural of a forest scene, and vintage mirrors. "These are antiques from a Parisian bistro that were handcrafted in the late 1910s," says Pickett. "We dug deep to bring this vision to life."
Pickett recruited chef Daniel Southern, who ran the Bar Margaux kitchen when it opened, to run the ship. On the day – starting next month – it will serve brunches like scrambled eggs with smoked salmon and quiche Lorraine, as well as heartier lunches like steak-frites baguettes and Wagyu cheeseburgers.
At night, expect playful versions of French classics, like vol-au-vent d'escargot (garlic-braised snails in puff pastry) and eggs mayonnaise (a simple French dish of hard-boiled eggs and of mayo which is taken very seriously in his homeland) – here it is garnished with caviar). Desserts include champagne sorbet, crème caramel and raspberry soufflé (made to order in a traditional copper pot).
Meanwhile, from Sunday to Thursday, you can order from the daily menu, a more affordable option. For only $40, get a glass of wine and a rotating specialty like the rib steak (boneless rib steak) with fries or the decadent duck confit with lentils. There's also a late-night supper menu with the signature burger, fried quail, cheeses, and more, which you can order until 1 a.m.
"This is not a special occasion restaurant," Pickett says. "Just a very good local bistro."
Smith St Bistro opens for dinner today. In March, it will open for lunch from Thursday to Sunday.
Smith Street Bistro

300 Smith Street, Collingwood
Hours:

Every day from 5.30 p.m. to 1 a.m.