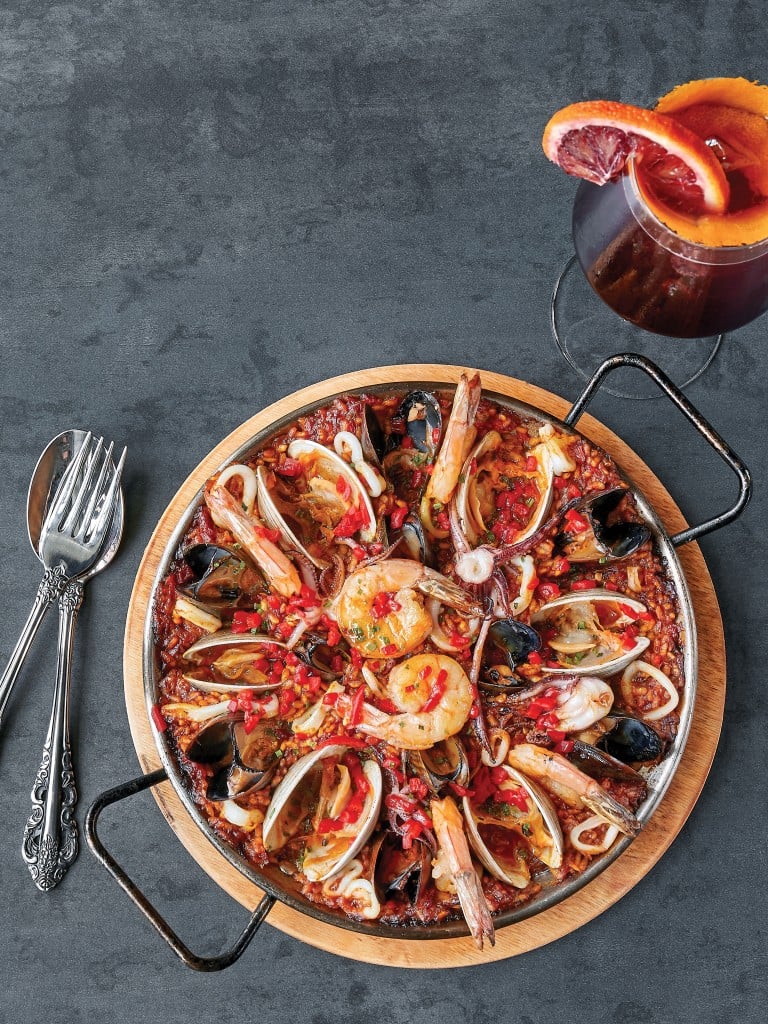 Restoration Review: Otra – Rhode Island Monthly
There are notable similarities between the Iberian Peninsula and the promontory that we call Italy: the love of cheese and cured ham, a deep commitment to the culture of wine and a unshakable feeling that food from the region will be transport you to a region saturated with the wealth of heritage. So maybe it'ss no wonder Brian Kingsford and Jennifer Matta — the chef-owners of Bacaro — would engage in a translation of Barcelona and Portuguese culinary life.
Located next to their first restaurant, Other (meaning "other" or "another" in Spanish) is quite different space, although the two restaurants share adjacent parking. Where Bacaro spans two floors, Otra manifests an urban intimacy. The renovation of its building — originally a 19th century fire station — is a tribute to history and to Spain. Two huge arched windows mimic the barracks engine doors, but the the interior is a world in itself. The dining room room surrounds a vast twenty-person bar carved in white marble and centered around lighted shelves. The burnt ocher colored seats the sky-high ceiling in an earthy aesthetic, but it's the staff – mostly Bacaro veterans – that shines through Kingsford's admiration for a kitchen that is as varied as it is precise.
The love of Italian cuisine is omnipresent in Rhode Island; every city in the state has its Venetian, Roman or Neapolitan style outpost. Even at Bacaro – with its discerning perspective on Italian cuisine – customers need little guidance to find their niche. In Otra, on the other hand, waiters and other staff accept their responsibility as tour guides with reverence for the mountains, the Mediterraneanranean and the distinct confluence of cultures of Barcelona, ​​of the south Region of the French Pyrenees and Portugal.
Meals begin with an explanation of the restaurant's mother sauces: romesco (almond, tomato and pepper), lemon aioli, bravas (tomato sauce tinged with chilli and vinegar) and piperade (tomato and piquillo relish). They accompany the restaurant's grilled dishes: a series options of shellfish, meat, fish and vegetables seared on a steaming Spanish plancha, a stainless steel plancha. But the Otra experience often begins before anything is ordered – as soon as a collection of homemade snacks with Spanish flavors are placed at the bottom. A handful Marcona Garlic Almonds, a selection of olives and a small bowl of house Lactonesea light aioli made with milk and garlic, comes with freshly baked bread and this is where the sauce takes center stage arrange. All about pure white Lactonese suggests harmlessness, but it delivers a heady garlic statement if exciting to recall, in a single bite, the The Spanish sun and an array of European dinners that start hours after it has set.
Otra offers hot and cold tapas in the same way as Bacaro – customers mark orders on a paper menu – although options have been narrowed down to main courses. Slices of Serrano ham, Iberian acorn-fed salchichonManchego and Idiazabel are enough to entertain drinkers at the bar, which is a world to himself. But the surprising thing about Otra is that the theatricality lies in its large plates, rather than in the turning pintxos (tapas served on a stick), montaditos (served on toast) and bocadillos (small sandwiches).
This is also where the service staff prove invaluable, not only providing genuine joy at the start of a meal ("I know what's coming and couldn't be more excited for you!") But a plan for the evening that hits as many notes as wide as possible. There are common threads that run through the menu – shellfish, rice, potatoes – but there are also dishes defined by wild abandon. The homemade chips are plated with crystallized wildflower honey and a shower of freshly cracked black pepper ($8), a timeless take on hot honey before it became all the rage. Huevos cabreados (the translation is smashed eggs, $12) – a plate of fries with spicy tomato sauce and a sweet fried egg – is a madman's creation that interrupts the soaring grandeur of space with unassuming hedonism. Thrown to the table, it's a puff memorized hot sauce and Tini's aioli fries, approximately 2013. There's Nothing Small About It plate, however; it's a platter of what you could find in a Granada fridge at 2am, and it's so good that the host and several servers will idle by to nod their heads in approval. It is also proof that, while the glamor of Otra is evident – in its lush grey-black hues and polished white – Kingsford's the kitchen is always oriented towards the hearth.
This is most evident in the restaurant large plates, which range from $30 to $45 but hit the table like Ramsay's soup tureen of beef stew: full of evocation and the promise of a long night spent talking. Slices of sirloin steak come with slices of rustic potato or roasted marrow ($40), each vying for the top prize of indulgence. But the soul of this restaurant comes in a casserole dish: marisco's paella lobster simmerock ($40), duck confit nestled in white beans and ham ($35), small necks sneak up to Toulouse sausage and white wine ($35). Every pan comes to the table hot from the fire and, if that sounds simple, it's a smoke prank. these are stews created in layers which carry the story of a culture dependent on such a range of people and the topography that the nuance becomes the very backbone of the dish. Casual, here, is as complex as it gets.
That doesn't mean Otra doesn't. have a side that just loves a party. Shimmying through a restricted space for storytelling patrons, a tireless the waiter said, "Just call me Shakira!" The drinks are coming in one way or another !" The easiest option is to just hang out at the bar – its own little town – drinking your way into the dessert which also lingers in Ipoisoning. The blank is garnished with homemade burnt orange jam and, if you are full of paella, blood orange ice cream soaked in cava interpreter a Venetian classic called groppinan Italian sparkling white wine mixed with fresh lemon granita or lemon sorbet. the the palate cleanser is like a boozy slushie in a martini glass. Don't be surprised if your server offers another wave of validation if you choose it: the dividing line between debauchery and refinement is what everyone at Otra is tries to walk.
Perhaps the biggest achievement here is that this restaurant looks nothing like its older sibling, nor does it incite competition. The space is singular, the inspiration distinctive, and even the the guests are changed after a meal. Eventually the massive doors will close for the evening, but Spain and Portugal linger long after. So much so that you could, temporarily, completely forget about Italy.
303 Main Street South, Providence, 633-1313, otrarestaurant.com.
Open for dinner from Tuesday to Saturday.
Wheelchair accessible. Parking adjoining the building shared with Bacaro.
Kitchen: Spanish with Portuguese and southern French influences.
Ability: Sixty
Vibe: Eating paella in a Balenciaga dress.
Prices: Tapas and small plates: $7 to $23; large plates: $30 to $45; dessert: $12 to $15.
Karen's picks: Huevos cabreados, bife a casa, anything cooked or simmered. The bar never gets old.