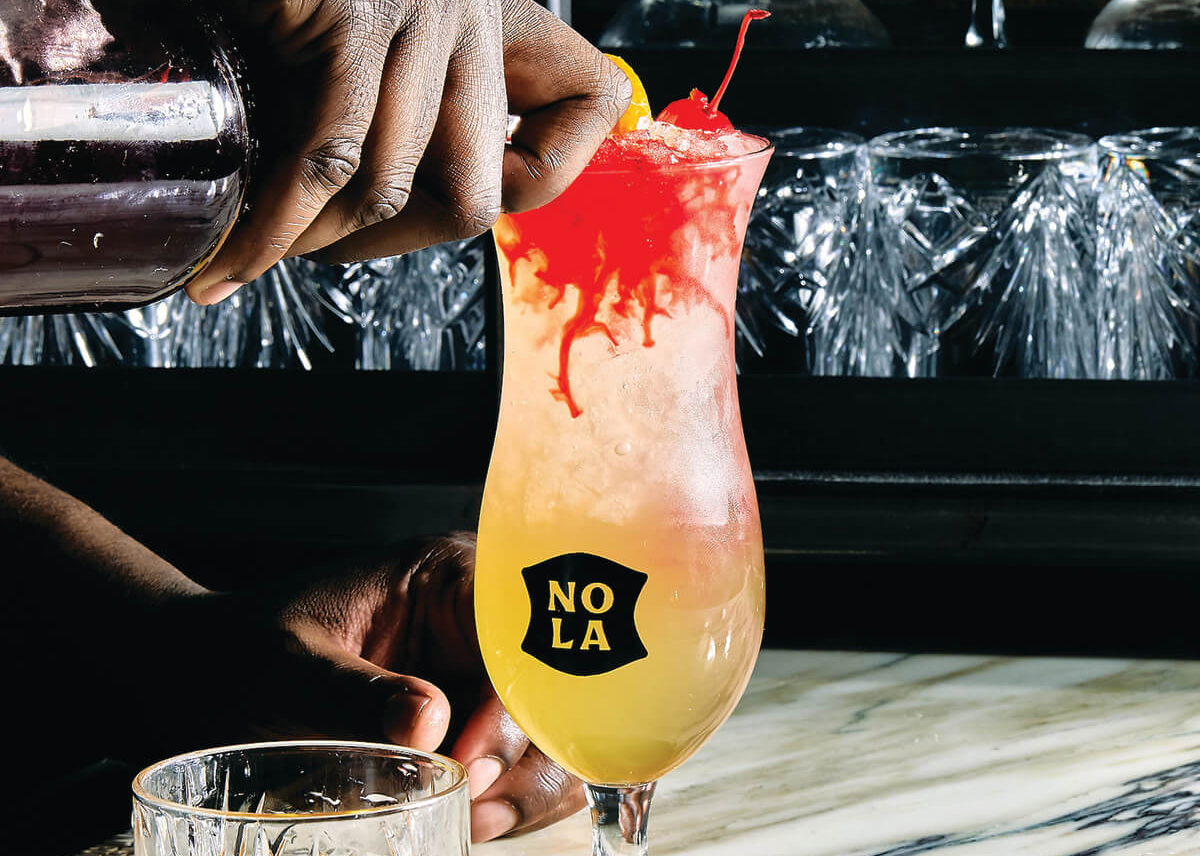 NOLA Seafood and Spirits brings the Big Easy to Baltimore
New Orleans is more than a city. It's a world-famous mecca for Cajun and southern cuisine, the birthplace of jazz, and a destination for partygoers ages 21 to 101. New Orleans is a city, it's true, but more than that, it's a feeling.
That joie de vivre is precisely what co-owners Ricardo Jones and Matthew Lasinski hoped to capture when they opened NOLA Seafood and Spirits in Federal Hill last October. The restaurant and bar, located in the Cross Street building that once housed Ryleigh's Oyster, aims to satisfy Baltimoreans' Big Easy fix with a slew of New Orleans-inspired cocktails and dishes.
The first thing you notice when you enter the space, which retains the Ryleigh setting but has been updated with sleek marble bar tops and other aesthetic touches, are the tunes. Music defines the sense of place in New Orleans. When we walked in on a cold December night to the funky sound of Gramatik's 'Just Jammin", we knew we were in the right place. We sat at the bar and were handed a leather bound folder which contained a plethora of laminated menus and a pad of raw bar paper.
Many of the drinks on the cocktail list will be instantly recognizable to anyone who's been to Mardi Gras or Jazz Fest. The Cross Street Hurricane packs a punch, just like Pat O'Brien's original on Bourbon Street that inspired it. There is a Sazerac available, with the classic combination of rye whiskey and absinthe. We sampled several libations. Our favorite was the Raspberry Beret, made with gin, lemon juice, raspberry and rosemary syrup and ginger ale. We couldn't help but dream of taking a refreshing sip on a sticky Southern afternoon. An old fashioned coffee was also well done, but only had a tiny hint of coffee in it. We could have used a little more jolt.
The food menu was shaped in part by New Orleans native Donnie Stykes, who is a friend of the owners. All your Creole classics are here – jambalaya, crawfish etouffee, red beans and rice, and a number of po' boy sandwiches. We tried a bunch of starters and found the okra to be perfect. The Mardi Gras Mambo prawns, grilled prawns in a homemade sauce served with very good French bread, were also tasty. Other dishes failed. The grilled oysters were overwhelmed by the bath of butter and Parmesan and Romano cheeses that topped them. And while a salmon entrée stuffed with crabmeat and crawfish was serviceable, the accompanying Cajun rice was bland. It's a sin in any city, but especially in Crescent City.
New Orleans-style music plays over the PA system until around 10 p.m. on weekdays and 11 p.m. on weekends, when a DJ usually takes over. The scene can get lively, our bartender told us. Which is kind of the point, because like Jones said Baltimore after the place opened, "I don't know anyone who doesn't like New Orleans."