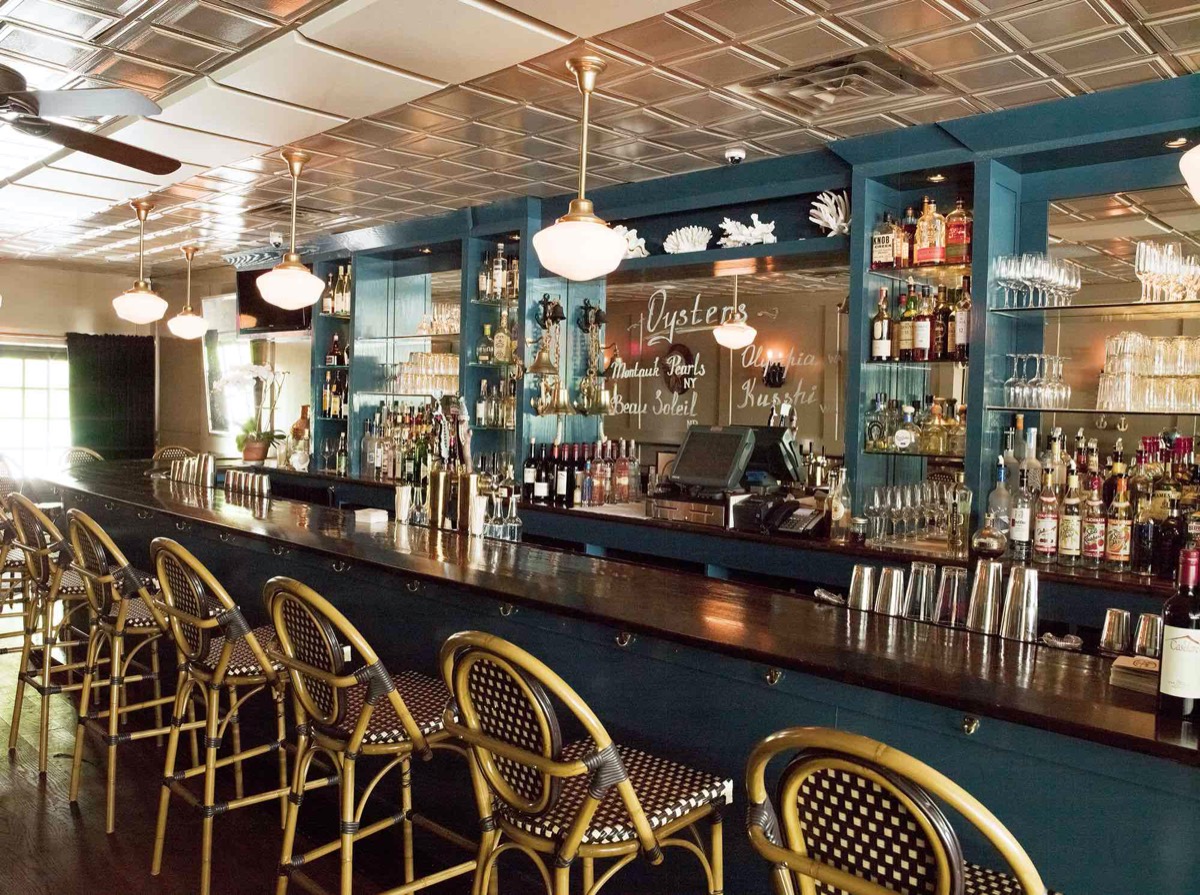 News for gourmets 11.25.21 | The Star of East Hampton
Bell and Anchor has new daily specials for those who dine out, including a lobster night on Wednesdays.
Set anchor for promotions
Bell and Anchor in Noyac has started offering a daily specials menu Sunday through Thursday for restaurant diners. Each special includes a choice of starters, desserts can be added at an additional cost.
The week begins with the Milanese pork night on Sunday with mussels and fries on Tuesday. Wednesday, lobster evening with your choice of a whole steamed lobster, a lobster tail poached in butter with filet mignon, or in a dish of garganelli pasta with corn cream, basil and saffron. Thursday is bouillabaisse evening. The restaurant is closed on Mondays.
The appetizer choices are house port chowder and Caesar or arugula salads. Tuna poke and burrata are also available at an additional cost.
Hometown hero
Main Street Tavern in Amagansett started a Hometown Hero happy hour on Fridays from 3 p.m. to 6 p.m. to honor the East Hampton School District. The tavern will offer special food and drink and offer an additional 20% happy hour discount for all attendees. After a break over the holiday weekend, the event will return on Friday December 3.
Hot with steam!
The Seafood Shop in Wainscott has a new steam table for quick take out options for lunch and dinner. Recent offerings have been prawn scampi on linguini, marinated grilled steak, French chicken, paella, bouillabaisse and cioppino.
Indian markett
In addition to its daily South Indian artisan cooking lunch deals, Bridgehampton Community House's Tapovana Lunch Box has a number of market items that are available throughout the week. Chutney flavors such as mango, apple, pear, and date come with frozen items like pumpkin and lentil soup, palak paneer, and pestle sambar. There's also coconut quinoa rice and a few drink options including hot and cold chais and a ginger and mint and lime drink. Prices range from $ 5 to $ 18.
A beautiful lamb
Elaia Estiatorio collaborated with Jodi Moreno to offer a special fricassee lamb starter and tzatziki potato salad until Tuesday.
A childhood favorite of restaurant co-owner Sofia Crokos, the two teamed up on the recipe, adding personal adjustments to the traditional dish. The restaurant notes that the lamb stew is prepared to be healthy and gluten-free. It consists of an avgolemono sauce and kale. The side dish includes baby potatoes with fresh herbs and kalamata olives as well as tzatziki sauce.
Just in time
For Hanukkah, which begins Monday, the LTV (and SunTV in Southampton Town) series "Two Jews Making Food," produced and hosted by Rebecca Edana and Amy Kirwin, will feature latkes through December 4. While each episode features a food associated with Jewish culture, half or more of the fun is watching the two mingle while they're in the kitchen.
"I Love You a Latke" will be followed by "Kugelicious" from December 7th to 18th, "Ode to Nigella" from December 21st to January 1st and "Let's Get Blintzed" from January 4th to January 1st. 15. In addition to scheduled broadcasts, episodes may be broadcast through LTV's YouTube channel.
On the other fork
Fall-inspired cocktails might be perfect to top off a late fall stroll on the North Fork. The North Fork Table and Inn has a few on their bar menu and a few recipes to get inspired at home.
The French Apple 75, its version of the classic French 75, is composed of one ounce of Le Verger (a French liqueur derived from apple juice, peaches, cherries and cinnamon), half an ounce of ginger tea, three quarters of an ounce of lemon, and garnished with prosecco in a cut glass. The filling is a dried apple with or without a flower. Also on the menu, an autumn sour and old-fashioned stone fruit.
For now and the winter months to come, the restaurant will offer an open-air Smores + Port option on Sunday evenings on its west terrace. At a mini bonfire for two, guests can roast their own marshmallows to place on homemade graham crackers with spicy Aleppo chocolate bark. A selection of Port or Valrhona hot chocolate adds an extra layer of warmth. The $ 55 special is not available for children.
Manna Mondays
Monday's speakers at Manna at Lobster Inn in Southampton are Aram Terchun and Laura Fabrizio from the Moriches Bay Project. They will discuss the mission and achievements of the project. The conference will be followed by a dinner with a personalized menu designed by Chef Tom Bogia. Tickets for this evening are $ 100 per person and the proceeds will go to the project and the Manna Ocean Foundation, two non-profit organizations.
Hanukkah at Stuarts
Stuart Seafood Market in Amagansett offers traditional Hannukah dishes such as latkes with applesauce made from Milk Pail apples, jelly donuts, jelly croissants, fruit pies, pecan pies and challah. Orders must be placed in advance at 631-267-6700. The market will also host the Jewish Center of the Hamptons Pop Up Hanukkah Monday at 5 p.m.