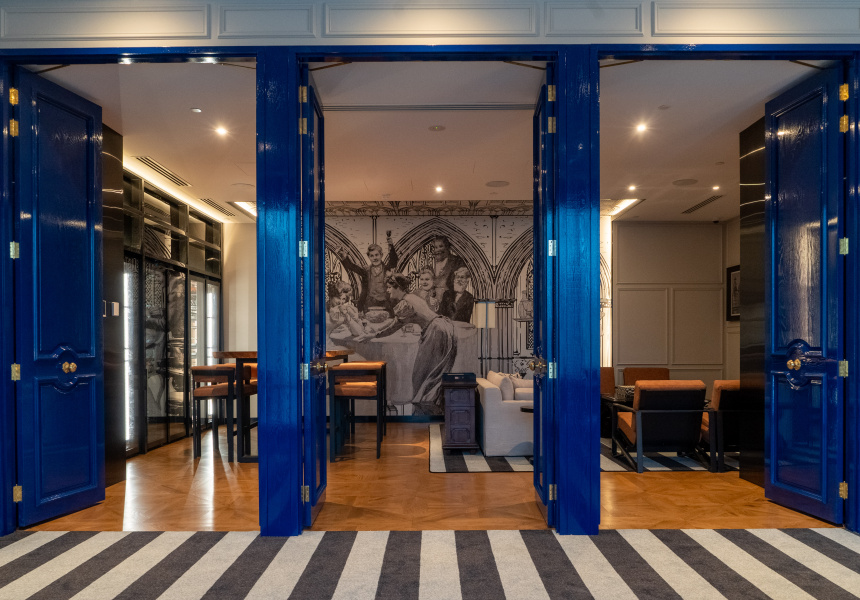 Inside the Sofitel Adelaide, the new five-star Flash hotel inspired by Adelaide and Bordeaux
Despite the pandemic, Adelaide has seen a string of new hotels and lodges open over the past two years, and the latest is the five-star Sofitel which occupies the first 24 floors of a 32-story glass tower on Currie Street. in the CBD.
Enter the lobby and you'll immediately notice a cascading chandelier designed to mimic both the Torrens River and a stream of red wine. It hangs above an Italian marble and oak floor, carefully arranged to match the grain of the two materials. The marble comes from Carrara in Tuscany, and the elevators nearby are covered in the same leather used by Ferrari for the interiors of their supercars, but almost every other design feature is inspired by Adelaide or France.
Each Sofitel is linked to a region of France (in this case, Bordeaux) and wine is unsurprisingly a recurring motif everywhere. But inspiration also comes from much closer to home. For example, Adelaide's "city of churches" nickname is nodded in the showers of each of the 251 rooms, with mosaics depicting details from local stained glass. The rooms themselves are dominated by a minimalist black-and-white color scheme broken only by a striking burgundy chandelier. They range from elegant superior rooms to a sumptuous 110 square meter presidential suite with a dining area, walk-in closet and work desk.
Guests staying in the hotel suites will also have access to the bright Club Millésime lounge where they can enjoy a free breakfast, afternoon tea accompanied by a selection of desserts and drinks in evening with local wines like Wirra Wirra and Thorn-Clarke. Back on the ground floor, the Deja Vu champagne bar is attached to the lobby and serves coffees and light meals during the day, before the lighting turns dingy and the Perrier-Jouët house begins to burn. flow freely.
Each Sofitel organizes a candle lighting ceremony every evening. In Adelaide, the daily ritual sweeps the lobby led by a member of staff painstakingly dressed as Madame de Pompadour – the flamboyant chief mistress of Louis XV, who inspired the eye-catching Alexia Sinclair Field of dreams photo hanging at the reception.
This is just one of the many remarkable works of art scattered throughout the hotel. Dark images of Kangaroo Island line the entrance to a gym that includes a pool lit by four peacock blue chandeliers. Bold contemporary artwork is among the first things diners will notice upon entering the Boy Bleu restaurant on the ninth floor, accessed by passing an open kitchen and raw seafood bar. Especially eye-catching are Emmaline Zanelli's photographs showing gravity-defying food towers, which will be instantly recognizable to regulars of Parwana and 1000 Island.
Art is surrounded by reflective brass surfaces and mirrored gold ceilings that light up the interior of the 90-seat restaurant. Under the watchful eye of Michelin-starred executive chef Justin Dingle-Garciyya, trained at the Manoir aux Quat 'Saisons in Oxford, the cuisine of the Blue Boy plays with convention. "While Boy Bleu honors French cooking techniques, it colors outside the lines," Dingle-Garciyya said in a statement. "We are making French cuisine more accessible and fun.
Like many design elements at the Sofitel, the menu is inspired by here and elsewhere, combining local products and centuries-old French techniques: think poultry liver parfait with homemade brioche, salted and orange jelly, Clare Valley Angus steak fries and a Paris-Brest with peaches from the Adelaide hills, creamy Woodside goat yogurt and caramelized milk.
The food is accompanied by an extensive wine list compiled by Trevor Maskell (Mère Vigne) with sections on French regions including Champagne, Alsace, Jura and of course, Bordeaux, as well as the corresponding Australian drops belonging to similar categories. Offerings by the glass can include a smoked white Vinteloper and a Ministry of Clouds picpoul alongside chablis, burgundy or if you really want to have a blast, Château d'Yquem sauternes 2009.
And if you can't sit down for an entire meal, there's plenty of space in the large marble bar where you can order snacks like white baits with garlic aioli and chicken wings. with soy and honey.