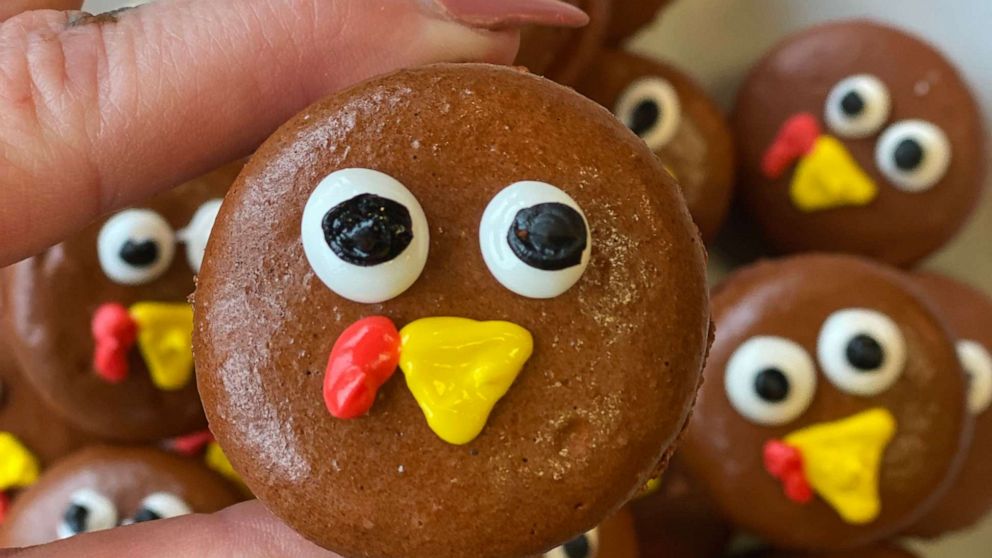 How to Make Festive Thanksgiving Pie Macaroons
[ad_1]
The flavors are made with real pie filling and royal icing.
Turkey isn't just for the table, and Thanksgiving pies are now in cookie form.
Tiphanie Cannon, a self-taught baker, turned her love of homemade sweets into a business – Oh So Sweet by Tiphanie in Davenport, Iowa – where she bakes adorable treats with her talented staff.
"We decided to take our Thanksgiving macaroons up a few notches by filling them with real pie fillings and decorating them to look like mini pies," she told "GMA" of the seasonal sweets. "We used royal icing to crust each macaroon, then we used a different colored royal icing to garnish the filling and the dollop of whipped cream on top."
If any home cooks are feeling ambitious enough to try their hand at the classic French treat, check out his full recipe below.
Ingredients
400g caster sugar
220 g almond flour
200g egg whites
70g white sugar
Sprinkle with cream of tartar
Filling of your choice
Instructions
Sift powdered sugar and almond flour together in a large bowl.
In the bowl of an electric mixer fitted with a whisk, begin to beat the egg whites over medium-high heat. When the egg whites start to foam (like the top of a beer), pour in the sugar. This is also the time to add any food coloring. Beat egg whites and sugar until very firm and firm.
Gently fold the dry ingredients, in two batches, into the beaten egg whites using a soft rubber spatula. When the mixture is just smooth and there are no traces of egg white, stop folding and scrape the dough into the pastry bag (placing the bag in a tall glass helps if you are alone).
Pour batter onto parchment paper or silicone mat in one-inch circles. Pat the baking sheet on the counter to release any air bubbles. Let the macaroons rest until they are dry to the touch.
Preheat the oven to 325 degrees. When the macaroons are dry, put the macaroons in the oven and put them in the oven for 15 minutes. Cool completely.
When the macaroons are cold, fill them with your favorite toppings and frost or decorate accordingly.
[ad_2]