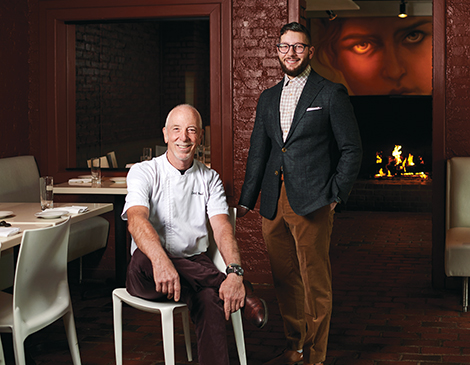 How father-son duo Julian and Zack Bruell achieved culinary excellence
Almost 20 years in, Parallax Restaurant & Lounge, Zack Bruell's Asian fusion restaurant in Tremont, is always the place to be on Saturday nights. Smartly dressed patrons stand shoulder to shoulder waiting to be seated, crowding the small vestibule and spilling into the crowded bar. Bartenders shake and pour cocktails while waiters, trays in hand, deliver the drinks. In the background, two chefs are frantically preparing sushi rolls to keep up with demand.
The best seats in the house are within sight of the open kitchen where Zack himself, in chef's white, stands at his command post, inspecting each dish and giving it a finishing touch. Sometimes he spins the plate around, looking at the dish from all angles, before laying down a spoon, a set of chopsticks, a few slices of lemon or a drizzle of sauce. Within seconds, the plate is shipped to its eager recipient.
Few restaurants in town have been around as long as Parallax, which wine spectator declared the "big hit of the year" after it opened in 2004. It has survived a recession, a pandemic and now an unprecedented labor shortage.
Zack's other restaurant, L'Albatros Brasserie & Bar, is aging just as well. Since opening at University Circle in 2008, the pleasant carriage house restaurant has cultivated an avid clientele. In 2009, The New York Times called it "Paris on Lake Erie" and it regularly appears on "best of" lists for its French cuisine, cocktails, patio and nightlife.
Every once in a while, Zack takes a sip of the Sauvignon Blanc he keeps nearby before turning to survey the dining room behind him. Tonight, he seems delighted. Relaxed, even.
Maybe it's because, after decades of fending for himself, he has a new partner and a plan.
Zack's journey began when he opened his first restaurant in 1985. By 2016, his portfolio had grown to 10 restaurants with over 500 employees, and he found himself spending more time in restaurants than he had planned – and less time to pursue his other passion. , Golf.
So last year, Zack parted ways with longtime partners and relinquished ownership of Alley Cat Oyster Bar, Collision Bend Brewing Co. and the now closed Cowell & Hubbard. The move allowed him to spend more than six months almost exclusively at L'Albatros, hyper-focused on every meal and every experience. An in-depth study of Parallax is currently underway.
At nearly 70, Zack is as fit and tenacious as a boxer with one last championship in him. But he wants his restaurants to survive and thrive even beyond that. And that's where his son and partner, Julian, comes into the story.
This is no ordinary handover from father to son. Julian was not expected, nor required, to join the family business. Far from a comfortable landing place for an only son, the road ahead will be grueling – and Julian and Zack know it.
"I can't remember the last time he wasn't 'labour father'," says Julian.
"I'm not easy to work with," Zack concedes. "But he's not either, because he's so motivated. We work hard. We don't compromise.
Julian Bruell knows who you are, who you are with and what you love.
In 2016, Julian joined his father as Service Manager, an all-encompassing role heading up the reception operation. But titles don't matter when the dining room is at capacity. In the heat of dinnertime, Julian acts as a utilitarian player, supporting the service staff, managing the food, picking up discarded baguette wrappers, checking each table, and offering wine recommendations with aplomb.
"Our level of service is like an orchestra. It's incredible. Beautiful. People think serving is easy, but it's a dying art," says Julian.
Zack had a sixth sense of Julian's potential from an early age. Julian had the right temperament and personality for catering, even if his talents weren't in the kitchen. At 14, Julian was polishing glasses at Parallax and doing whatever his father asked of him. Zack sent Julian into the dining room to meet guests and noticed how comfortable he was.
After work was done, the two would have dinner together. Sometimes they ate at other restaurants and Zack would point out all the things he wouldn't tolerate at home – like mediocre food or apathetic staff.
"I learned at a young age that if you take your foot off the gas, the quality will suffer," says Julian.
Julian was addicted to hospitality, but he did not immediately join his father's business. After high school, Julian entered the Nolan School of Hotel Administration at Cornell University. After working at L'Albatros for a summer – and several internships focusing on wine studies in Italy and Argentina – Julian began his career at the legendary Tribeca Grill in New York.
New York City is the restaurant industry's biggest testing ground, and Julian began to tire of the grind. He finally reached his limit, brought about by 90-hour weeks and the "psychologically trying" environment of successive prestigious restaurants, including two years at Jean-Georges (then a three-star Michelin restaurant), where he managed all the services and day-to-day operations at the age of 24. This was followed by a brief but intense role as general manager of Sauvage, a now-defunct four-star brasserie in Brooklyn, New York.
Still, life for a successful 20-year-old in the Big Apple wasn't so bad. "It was the most free time I've ever been in my life," says Julian. "I could really mold myself into the type of professional I wanted to be. I grew as a person, matured and matured and had fun too.
Julian, tireless until exhaustion, proved that he could carve out a place in the business on his own merits, without being the son of Zack Bruell.
Zack never pressured Julian to follow him into the restaurant business, perhaps because his own father, Ernest, had mistakenly assumed that Zack, a hippie-haired free spirit with a stubborn streak, would join him. in manufacturing sales.
Zack's early twenties were twisted and uncertain, just like many in the '70s. The project ended a brief enrollment at the University of Pennsylvania's Wharton School of Business. After serving in the Coast Guard Reserve, where Zack enjoyed discipline and order, he found his way to the University of Colorado, earning a business degree. There he would meet a man essential to his future – Michael McCarty, who would open the famous restaurant Michael's in Santa Monica, California, who was instrumental in Zack's development. But first, he graduated from The Restaurant School (now Walnut Hill College) in Philadelphia.
Zack's decision to pursue a culinary career has been a bone of contention for years. His dad, a loyal and practical traveling salesman, told Zack, "You'll make more money as a garbage collector.
Zack returned home and pursued his first solo project a few miles from his childhood home. Z Contemporary Cuisine set a new standard for Cleveland restaurants when it opened in 1985. Ernest never got a glimpse of his son's success until he died of cancer a year earlier with Zack at his bedside.
"My dad raised me like most kids don't," Zack says. "It was a tough love. It made me the person I am. I was going to prove to him that I could do it and make him proud.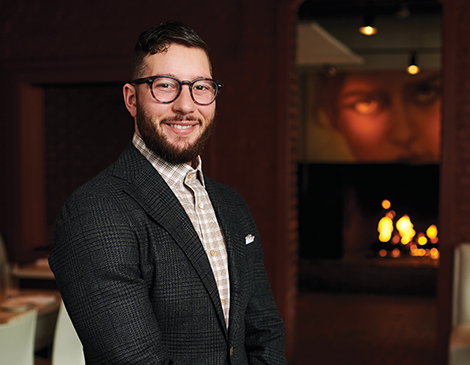 Exhausted and eager to help his father manages his large list of restaurants, Julian decided to return home in 2016. His arrival was an adjustment for everyone.
Anticipating the kind of reaction employees naturally have when family members join the company, Zack didn't
on tiptoe around the question. Instead, he gathered his staff and placed Julian in front of them. A quick but powerful speech followed.
"If you think in your wildest dreams that it's being handed to him, you're wrong," he told them. "It would be your worst nightmare, being my child and working with me."
The new father-son team has learned to work together and lean on each other.
After downsizing their portfolio of restaurants, the two set out to restore L'Albatros and Parallax to greatness. Parallax was his "comeback" restaurant, Zack explains. The Albatross, named after golf's rarest shot and a nod to a sport Bruell doesn't have time to play, also had room for improvement.
"They had lost their way," admits Zack. "I wanted to take the time to make them perfect again. They were good. Some people thought they were awesome. But I wanted them to be beautiful again in my eyes.
Then the pandemic hit, altering Julian and Zack's partnership in ways neither could have foreseen.
"I sat down with Julian and said it was going to be unusual," Zack says. "We will go to war together. It's unusual for a father and son to go fight together. I wanted to make it clear that we had to take care of each other.
Neither Bruell apologizes for aiming higher than the "Cleveland standard." Both men describe themselves and their approach as old school. They share a frustration with the erosion of culinary etiquette and the pitfalls of celebrity chef culture. Julian's priority as a partner was to revamp the standard of restaurant service to bring it closer to what he and his father envisioned – something comparable to Los Angeles, New York or Paris.
While Zack has always shied away from the spotlight — "I'm not very good at playing the game," he says — hard work is a way of life.
"Our customers have a wait before entering," explains Zack. "Some of these people have been dining with us for 35 years or more. The people ordering have been eating these dishes since I personally cook them.
The question many are asking, however, is when – or if – Zack will retire. Cooking, after all, is a young man's game, and he can't remember the last time he played golf with his son. But the 69-year-old chef is reluctant to set a timeline for driving that golf cart into the sunset. He still longs for the warmth of the kitchen, the buzz of the restaurants.
"I love what I do," he says. "I'm lucky. Most people my age hate their jobs. All they care about is weekends, holidays or retirement. For me, it's a sad way to live .
While they're inclined to see the best in each other, they don't always agree, especially when it comes to how hard the elder Bruell should work.
"I worry every day for his well-being," says Julian, "but I know he's tougher than me, and he pushes harder than me. I always run after that. I always try to reach that level. »
A great duo, they are well prepared for the future. With the pandemic in the rear view mirror, they are once again looking cautiously ahead and ready to take on a new slate of competitors as the economy rebounds. And when Zack decides it's time to walk away, if he ever does, Julian is behind him.
And that means carrying on his father's legacy.
"My dad sacrificed a lot, so it's time to thank him," says Julian. "Love is irrational. You just did it. It's not perfect between us. But restaurants are what they are because they are my dad's essence.