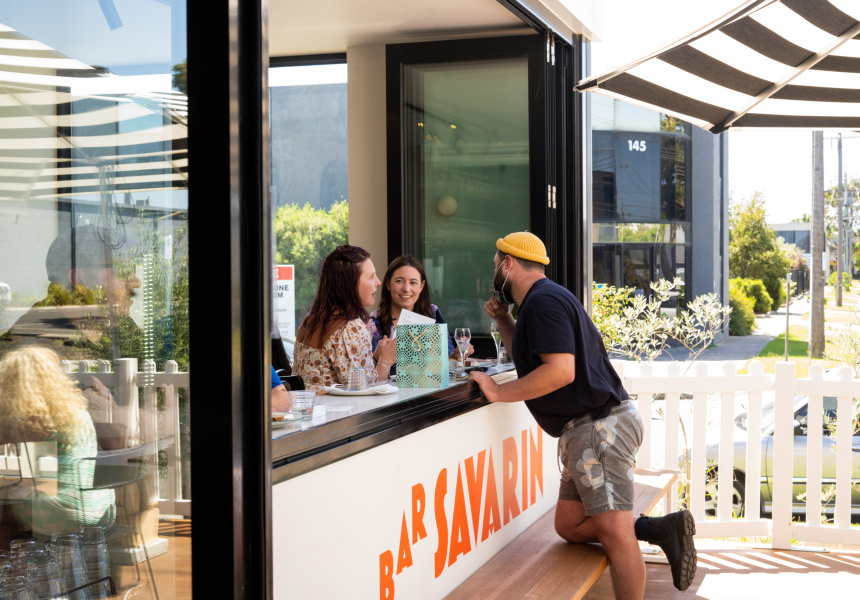 French bistro and bottle shop The Savarin Bar brings a touch of Parisian flair to Cheltenham
Bar Savarin is named after Jean-Anthelme Brillat-Savarin, the author of the first book on gastronomy, published in 1825. It was the creation of a legendary group of southern hospitality people who came together through a series of casual conversations.
These are the combined forces of Evan Georgopoulos (Bambam Deli & Discoteca), husband and wife team Denis Arbatov and Liz Garginian (Applehead Deli), Hugh Sanderson (Custodian Kitchen) and Christopher Keating (Grape & Grain).
In the two degrees of separation that is Melbourne hospitality, the group all knew each other and, over the course of a month, had overlapping discussions about their future plans. Sanderson, Garginian and Arbatov began discussing doing something new together. Georgopoulos mentioned to Arbatov that he wanted to sell Bambam and switch to a wine bar vibe. And Keating moved down the road from Garginian and Arbatov and casually mentioned that he had always wanted to own and run a bar. Those discussions thankfully brought the band together and they set to work converting Bambam into something a little more Parisian.
Sanderson wanted to create a wine bar he considers "the café of the night", and also bring his training as a classic French chef into the mix. "I was thinking in the shower, thinking of Jean Brillat-Savarin who said: 'Inviting people to dine with us means taking responsibility for their well-being as long as they are under our roof.'
"That's how I think of hospitality, so I thought Bar Savarin would be a good name. This is where it all started and where the French look came into play."
The space is decorated with dark No. 18 bentwood chairs, paneled walls, French cutlery and linen napkins on the tables, and a series of arched mirrors along the far wall. When the sun dips below the horizon, the space comes into its own with candlelight and music that, Sanderson says, "always comes back to disco."
Sanderson is on the pans, and he's set the menu so diners can share their way through bites to "small plate" and on to "substantial" and "the end" – because a meal doesn't isn't finished until dessert.
In a cross-cultural suggestion to "do as the Romans do," the staff's favorite meal is the flathead en papillote served with mussel butter and sea savory from a Mornington Peninsula forager. They are very fond of the Mount Martha mussels and the "sexci" heirloom tomatoes (their words).
Keating changes the wine list daily to keep it fresh, from old-school wines to those from local wineries, such as Delinquente Wine Co or Brave New Wine. There are 12 by the glass and, if you like what you're sipping, you can take a bottle home via the bottle shop. Cocktails are classic – the list includes Negroni and Amaretto Sour, for example – but the G&T changes every 10 days, featuring a different Australian herb, like lemon myrtle or acacia seed.
For Georgopoulos, Bar Savarin and this band, it's like living a dream. "No one has a strong ego and there is no dominant personality. We all uplift each other.
Bar Savarin
132 Keys Road, Cheltenham
Hours:
From Wed to Sat from 12 p.m. to 4 p.m.
Fri 4pm–11pm
barsavarin.com.au
@bar.savarin