Freeman Center chief: 'It's a dream come true'
Fueled only by a small Spanish-English dictionary and a big dream, Edouard Polit packed his bags and flew for the first time after cooking school to leave his hometown of Guayaquil, Ecuador for Europe in 1997.
Polit got his foot in the door of his first restaurant in Bath, England, showing up with a pre-written note asking for a job. For months he washed dishes and scrubbed potatoes until he proved himself to earn a role as a kitchen helper, cutting and preparing portions of dishes to be cooked. A few years later, when he decided to leave for training in Switzerland, he was ready to embark on the restaurant business.
The decision to move to another continent taught Polit the importance of pursuing his dreams, a decision that paved the way for Duke University last August to become the director of the Freeman Center for Jewish Life Café.
"This job keeps me alive and wakes me up every morning," Polit said. "It's a dream come true."
The addition of a chef – the first for the Freeman Center – coincides with other updates to the cafe. With a renovated kitchen area, menus have been revamped to include Mediterranean-inspired dishes that change seasonally. The center has also added an espresso machine and signature made-to-order coffees, enhancing the experience at the Triangle's only kosher dining establishment with meals prepared under rabbinical supervision.
The Ecuadorian-born chef, who worked on the Duke campus for a catering provider in 2014-2015, is fluent in four languages ​​- Spanish, English, Italian and French – and brings a host of international influences to campus after years of stays in restaurants in Switzerland, England and New York. Polit lived in New York for 10 years and worked for three Michelin star restaurants, including Eleven Madison Park.
Before joining Duke last year, he worked as an executive chef at Veritas Collaborative in Durham.
"Eduardo has enough experience to work anywhere in the world," said executive chef Mark Turner, who oversees operations at Marketplace on East Campus, Trinity Café and the Freeman Center. "Having a leader of his caliber is truly a blessing for us."
Each stop on Polit's journey has influenced his style of cooking, and selecting fresh ingredients that take a dish to the next level is one of his specialties. Polit first learned to prioritize fresh ingredients from his family, who grew coffee, cocoa beans and made vinegar in Ecuador.
Polit and his father visited local farms and markets, where Polit learned to spot the best produce and ripest vegetables, a skill that would help him leave his mark on the all-kosher cuisine served at the Freeman Center, where he is the first manager trained in the culinary arts to run the operation.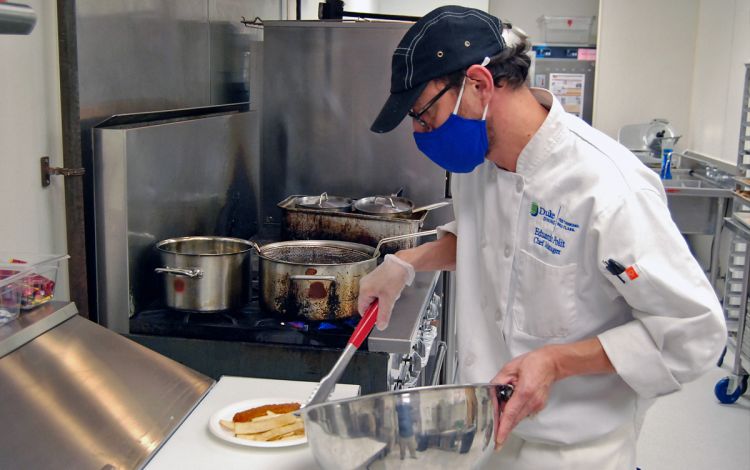 Spending time in French-speaking countries, Polit draws inspiration from a particularly French cooking technique that influences his approach to any dish. One of his favorite dishes to create is ceviche, a Latin American dish that can be adapted to include shrimp or other types of fish.
In one of his first major meals at Duke, Polit crafted a dinner menu to welcome the Jewish Life Advisory Board at Duke, which met for the first time since 2019 in October. Hosting the meeting in the outdoor seating area of ​​the Freeman Center, he served lamb skewers, chicken lollipops, roast red grouper, prime rib, honey maple roasted carrots, skewers of chicken, homemade apple pies, pumpkin and pain au chocolat.
With a fall picnic theme, he cooked everything kosher and from scratch, including pickling vegetables and choosing dishes that wouldn't get cold quickly, making it a special occasion after not gather in person for two years due to the pandemic.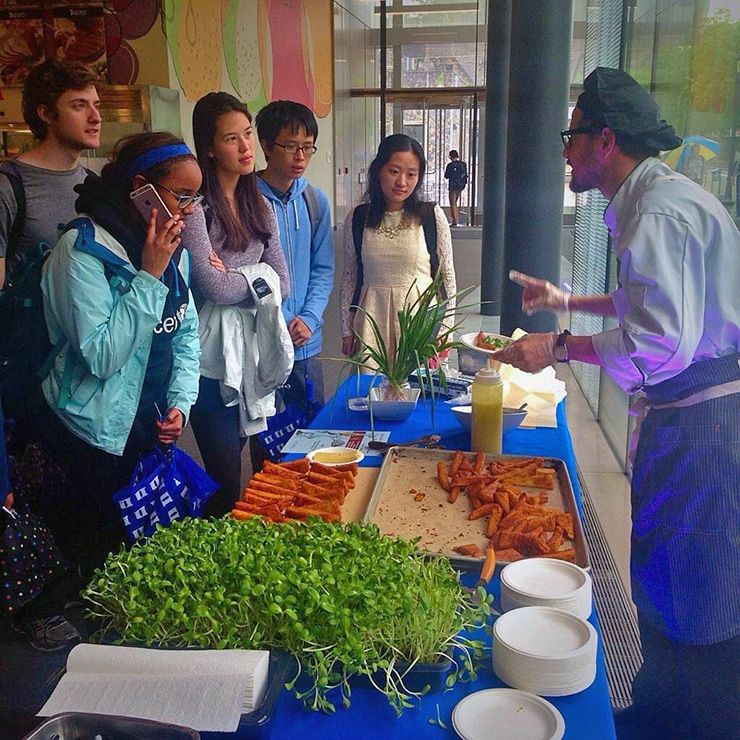 "He knocked it out of the park to welcome them back to campus," said Joyce Gordon, director of Jewish life at Duke. "The attention to detail was amazing."
Located on the first floor of the Freeman Center for Jewish Life, the Freeman Center Café is open to all for lunch and dinner from 12:00 p.m. to 7:30 p.m. Monday through Thursday and 12:00 p.m. to 2:00 p.m. Friday.
At this time, food at the Freeman Center Café is take-out, due to COVID-19 policies. But as Polit settles in, he can't wait to see the diners enjoy the taste of his hard work in community with one another.
"There's a sound when you're in your restaurant that's beautiful," he said. "It's not noisy; it's a bit of a buzz where you can tell people are having fun. It's very stable. When you work in a restaurant, you learn to notice it and want it. That's what I want to see here.
Fluke ceviche recipe
Mise en place (prepare all ingredients before combining)
Ingredients:
2 cups raw fluke cut into 1/4 inch pieces
1/2 cup small green peppers, diced
1/2 cup red onion, thinly sliced ​​rings, rinsed under cold water and drained
1 tablespoon Jalapeno peppers, browned
1/2 cup mini Heirloom tomatoes, halved
Freshly picked, washed and dried cilantro
1/2 cup freshly squeezed lime juice
1/4 freshly squeezed orange juice
1 tablespoon aji amarillo (you can use tabasco)
kosher salt
4 tablespoons of olive oil
2 teaspoons of mustard
Not:
In a medium bowl, marinate the fish with 1/2 tsp salt and let stand, then add half the lime juice and let soak for 10 minutes
sprinkle the onions with salt and let them harden for 5 minutes
mix all the ingredients and season.
Use long crispy fried green plantain boats for garnish and plantain chips for a side.
Submit story ideas, dedications, and photographs through our story idea form or write to [email protected].