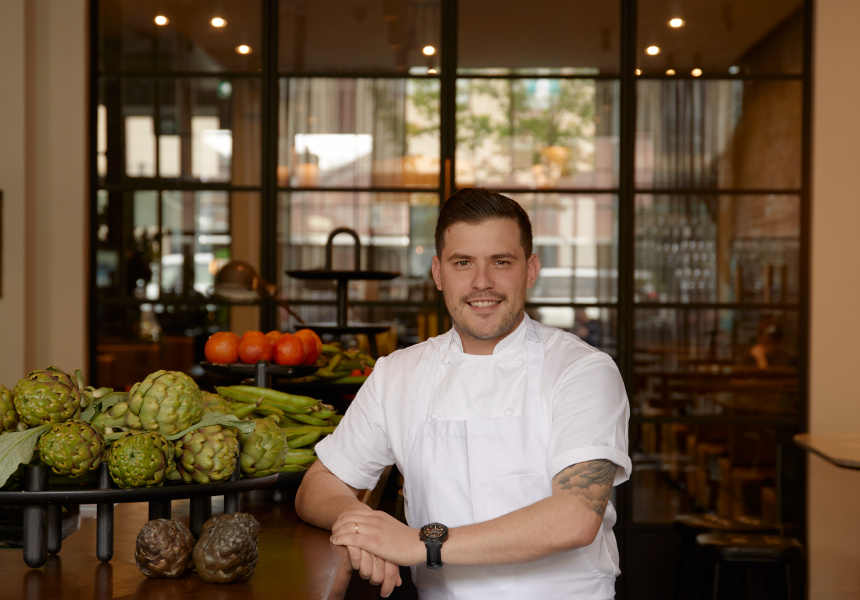 Five minutes with Jordan Clavaron, new chef at Cutler & Co
It's almost as if Frenchman Jordan Clavaron was destined to be a chef.
He grew up learning from his chef father, who worked in Michelin-starred restaurants in France, before working in some himself, including legendary French chef Jöel Robuchon's L'Atelier.
After a quick Australian getaway in the early 2010s, he settled here more permanently in September 2021. And for the past year, he's been running the kitchen at the gourmet restaurant Cape, at the RACV Cape Schanck Resort. But now he's taken the reins of the classic Fitzroy Cutler & Co, which leading Melbourne restaurateur Andrew McConnell opened in 2009. Thirteen years later, it's still as refined as ever – with a deft restraint that makes it a Melbourne classic .
Large format access members get special tables at popular restaurants, tickets to exclusive events, and discounts on food, coffee, branded deals and more.
Learn more
Large format took five with his new chef to discuss his globetrotting career, the changing culinary culture of Melbourne and white asparagus.
You are from France. When did you come to Australia and what made you come here?

I originally came to Australia in 2013 for a radical change. I had friends based in Sydney who opened my eyes to all the amazing opportunities here for a young chef, and I was back on a flight within three weeks.
Tell us a bit about your career to date. Where have you worked before?

I've been lucky enough to work in kitchens in Paris, London, Sydney, Brisbane and now Melbourne. My greatest accomplishments to date would be to be appointed sous chef at Marcus by Marcus Wareing in London and senior chef de partie at L'Atelier by Jöel Robuchon.
Are the products very different here compared to what you are used to? How?

I would say yes, it is different, however, in the best possible way. Working in Victoria, I feel we have amazing produce on our doorstep which makes it easy to connect with farmers and suppliers. The products here are unlike any other and having the opportunity to work with fresh, just-harvested ingredients is always exciting.
Which local ingredients and producers are you most passionate about?

Asparagus season would be my favorite time of year. The introduction of Australian white asparagus this year got me so excited. It's a little reminder of home for me, and the versatility in the vegetable is extraordinary.
What are your ambitions for Cutler & Co? Is there a new direction you want to take?

I feel like food and restaurants in general are changing in Melbourne right now. Restaurant dining is more casual and accessible to many more people, with food looking and sounding simpler; however, in truth, the techniques and hours spent on each dish are at the level of a two-star Michelin restaurant – it's an odd combination, but one that works. Cutler & Co is an institution in Melbourne, so I don't want to change what it is at its core – saying I'm going to sneak into the menu in a subtle way.
cutlerandco.com.au

@chef_jordanclavaron