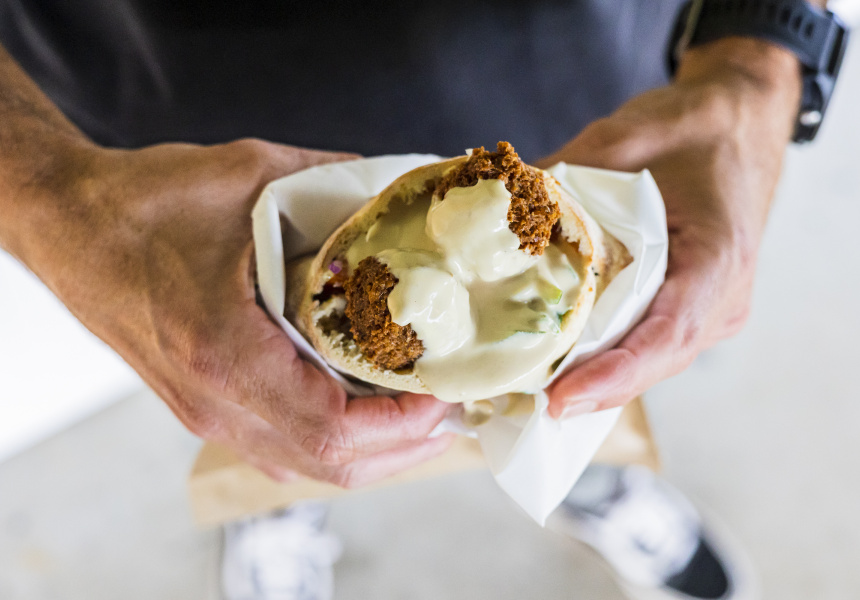 Falafel Omisi, a low-key cafe in an unlikely location, brings exceptional Middle Eastern flavors to Yokine
Good restaurants in football stadiums: the next big thing in food circles? Leading the charge is Copenhagen Geranium, a fancy dinner at the Denmark National Football Stadium. (The restaurant has three Michelin stars and is currently ranked second on the World's 50 Best Restaurant Countdown). In Melbourne, Marvel Stadium is home to an outpost of Lee Ho Fook, chef Victor Liong's modern and energetic Chinese restaurant. And in Perth, we have Falafel Omisi, a casual cafe that opened at the Joe Rosen Oval in February.
Granted, Joe Rosen Oval — a suburban soccer field in Yokine and home to the WA branch of international Jewish sports club, Maccabi — isn't quite in the same league as Marvel Stadium or the team's HQ. Danish national. I also admit that until I came across it via Google, the name Falafel Omisi was new to me, although the restaurant's history dates back to 1961 when Rachel Omisi opened the family's first falafel shop in Tel Mond, Israel. But despite an unusual location and nothing in terms of market visibility, this humble kiosk is considered one of the standout debuts of 2022.
"I believe if you have good food, people will come," says Maor Mantin, the chef and one of the partners behind Falafel Omisi's Perth outpost. "If your food is delicious, people will come. If you open in the desert, they will come to the desert to eat.
People will also come when the cook has a personality as sunny as Mantin's. Over a handful of visits, I watch him hold conversations — in English and Hebrew — with everyone from dog walkers and students from nearby Carmel College to the gardener at the oval. He speaks quickly and enthusiastically and with a strong French accent, a nod to his family's Gallic, Italian and Jewish roots. After a life in the business world, Mantin shifted his focus from boardrooms to the kitchen and partnered with Falafel Omisi owner Yaakov Omisi in 2017. Last year, Mantin and Omisi crafted plans to cross the Nullarbor and bring the Middle Eastern mark out of Omisi. the west after a toss – etz oh pali, the Hebrew version of heads or tails – followed us.
Falafel Omisi's namesake is the number one reason to hit it at Yokine. Made according to Omisi's grandmother's recipes, these 20-cent-sized falafels are crunchy, creamy and insanely delicious. In a city where falafel is so often an afterthought in kebab shops and sandwich shops around the world, these fried-to-order golden balls are a reminder of just how delicious plant-based cuisine can be. They are available stored in a pita pocket; as part of a falafel plate; or as a crispy accent on hummus plates. All options come with hummus, tahini (homemade), and pita bread (baked offsite at a friend's bakery to Mantin's recipe).
The second reason to make a quick trip to Falafel Omisi is the sabich, a Jewish-Iraqi sandwich consisting of sautéed eggplant, a hard-boiled egg, and salad stuffed into a pocket of pita bread. It's a sandwich that's gaining traction elsewhere – I'm thinking a glorious version at Sydney's Shwarmama – but, so far, I've yet to spot one in a brick and mortar venue in these parts since the closure of the Hummus Club. Other sandwiches on the menu include a chicken shawarma as well as a chicken schnitzel pocket. The shakshuka (again with falafel accessories) is also something I look forward to trying.
Towards the end of your order, Mantin will ask you "do you like it spicy?" Answer correctly and your prize will be our man who anoints your sandwich with a dab of zhoug: a Yemeni hot sauce made with chilli and coriander that enhances everything it touches.
A few tips for starters: The space is best described as clean and comfortable rather than anywhere you would write home about. A giant sticker depicting a Tel Aviv summer scene (and a drinks fridge) adorns one of the walls. A handful of tables sit inside while the small covered area outside is dotted with chairs, high tables, and a patch of fake lawn. It should be noted that there is little signage, so you will have to rely on Google Maps to take you to the right place (if you are in a parking lot next to a football pitch, you are in the right place) . Your destination has a large blue mural painted on the outside and is next to a playground. Granted, Falafel Omisi isn't the easiest place to get to, but as Mantin said, tasty food is worth the trip.
"I moved here from Melbourne," says Mantin. "I wouldn't make every effort to move and come here if I didn't think my food was good."
Falafel Omisi Perth
0401 528 006
Hours
Sunday to Thu 11 a.m. to 8 p.m.
Fri 11am–3.30pm