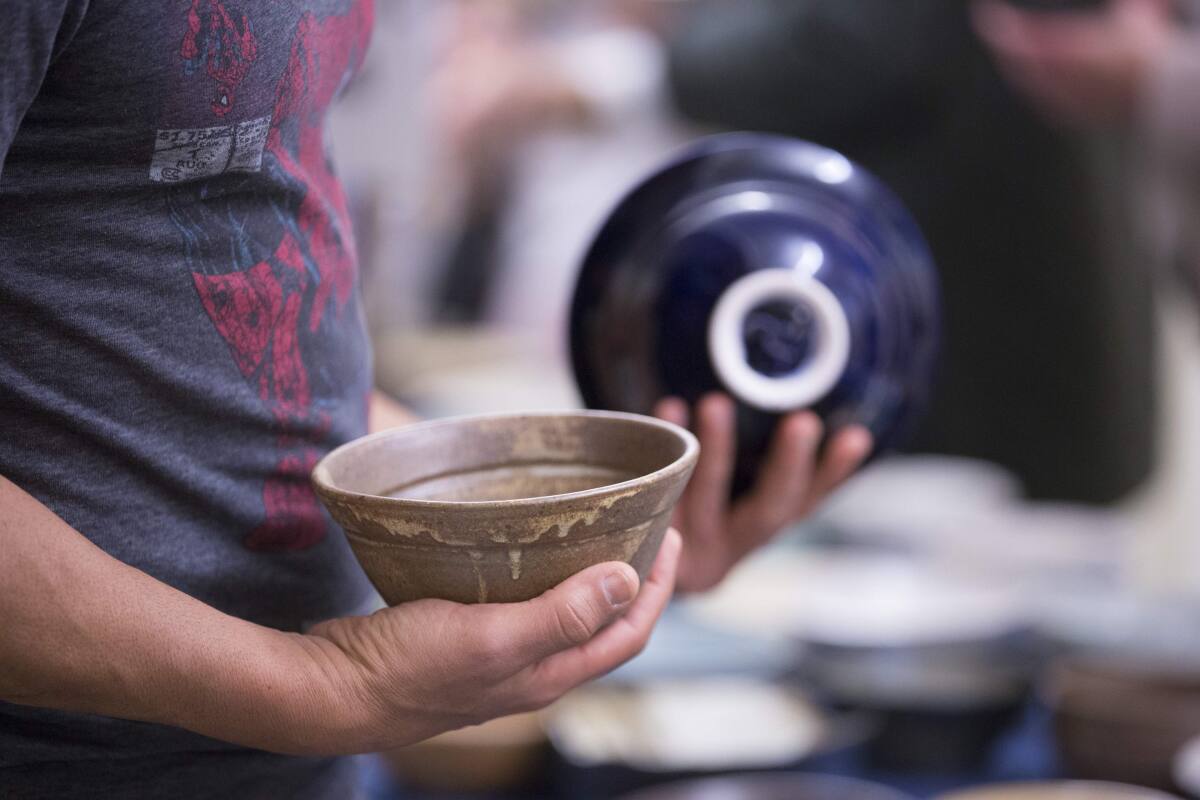 Chili Bowl Express scheduled for Saturday
The Chili Bowl Express, a super fun multi-arts event will return to its annual charms on Saturday, May 14 at the Sonoma Community Center, but in a new guise.
Previously, you would register for a specific time, wait to walk down the hall and select your bowl of art from the ceramists making them in the center, pass through the rotating kitchen to have your bowl filled with the chili of your choice. by local chefs, then sit at long tables and chat with friends of years or people you've sat next to.
This year it's called "Chili Bowl Park and Pick up", which means, according to their press release, "Instead of sitting down for lunch and dinner, attendees will choose a 30-minute time slot when they will purchase their ticket. Available windows begin as early as 10 a.m. and go until 5 p.m. Tickets can be purchased at sonomacommunitycenter.org/chilibowl. Ticket holders will be asked to park in the church parking lot at the Trinity and walk to the back patio of the center.
At the appointed time, ticket holders will be invited to our bowl selection area, first passing through our carnival maze of auction items including handmade ceramic totems, baskets of Opus One and Friedman's, and more. After selecting their perfect take-out bowl from the 700 containers on offer, attendees will choose from a variety of cold-packed, travel-ready vegan meats and chilies prepared by renowned local chefs.
Chefs who make the chili include Cristina Topham of Spread Catering and Spread Kitchen; Lauren Cotner of Delicious Dish; Rob Larman of Flying Pig and Il Fuoco; Mara Roche from Aunt Momo's; Sheana Davis of Epicurean Connection with the Sonoma Valley Mentoring Alliance; HopMonk Tavern; Sonoma Market; Lisa Lavetto; Sunflower Coffee; Kina Chavez of Kina's Kitchen; Salt & Stone; Murphy's Irish Pub; Sonoma grid; and the Centre's culinary director, Elise Gonzales-Sahota.
Kivelstadt reopens with new menu
Jordan Kivelstadt reopened his Kivelstadt Cellars & WineGarten yesterday, Thursday May 12, for food and wine, wine tasting and live music. This is a child- and dog-friendly place, covered in the shade of sycamore trees and a children's play area, with a bit of occasional excitement from the fire engines of the Schell-Fire Department. Vista from across the creek.
So far they have a lunch menu, with "brunch menu items coming soon".
Last weekend, Kivelstadt and friends took their new food truck to Off the Grid in Fort Mason for a taco tasting contest paired with their KC Labs' Blanc, KC Labs' Rosé, and Fathers Watch Red Rhône blend.
The new Saturday and Sunday brunch menu includes Whipped Honey Butter Jam Cookies and a Waffle Breakfast Sandwich. ($15 to $18)
For the table, you can order sushi-grade Ahi tuna; burrata and snap peas with pea shoot pesto, baby arugula and toast; fried chicken bites; thin fries or toast marinated in golden beets and avocado. ($9 to $24).
They offer salads such as spring vegetables and potatoes with Yukon Gold potatoes and snow peas; a wedge of Iceberg with pickled beets and an avocado salad with Point Reyes blue cheese; or a salad of strawberries and goat cheese. ($16 to $17).
Entrees include a smoked pork sandwich, fried chicken sandwich, mushroom cubano, KC burger with fries, or golden sweet potato tacos. The sandwiches are served with salad. ($17 to $21). Substituting the fries in place of the salad costs an extra $3.
And then there's the S'more In a Jar or the vanilla bean panna cotta to top it all off. ($12 to $14). 22900 Broadway, Sonoma. 938-7001.
Spread Kitchen now opens May 19
Chef/owner Cristina Topham had planned to open her Spread Kitchen this Friday the 13th at the former Sonoma Eats in the Springs site.
Saying via email, the "official opening date is May 13 – assuming we got the keys on April Fool's Day, why not push our luck by opening on Friday the 13th".
But this was interrupted by Mr. COVID, out of extreme caution.
As Topham emailed me, "Hi, we had to postpone our opening until May 19. I have Covid. My Napa team will be taking care of the catering and farmers markets this weekend. No one no one else on our team has tested positive and I haven't been in the Napa kitchen in over a week.
We will look forward to another week with its opening now scheduled for My 19 and wish Topham and his team good health soon.
Spread's hours of operation will be 11 a.m. to 6 p.m., Thursday through Monday to begin with.
Topham says, "As we get geared up and everyone gets trained, we'll extend our evening hours to 8 or 9 p.m. and add another day of the week."
Wine cones sno?
La Prenda Wines has just started serving frosé and Sauvignon porridge in its downtown tasting room, conveniently located across from the Red Grape Walkway.