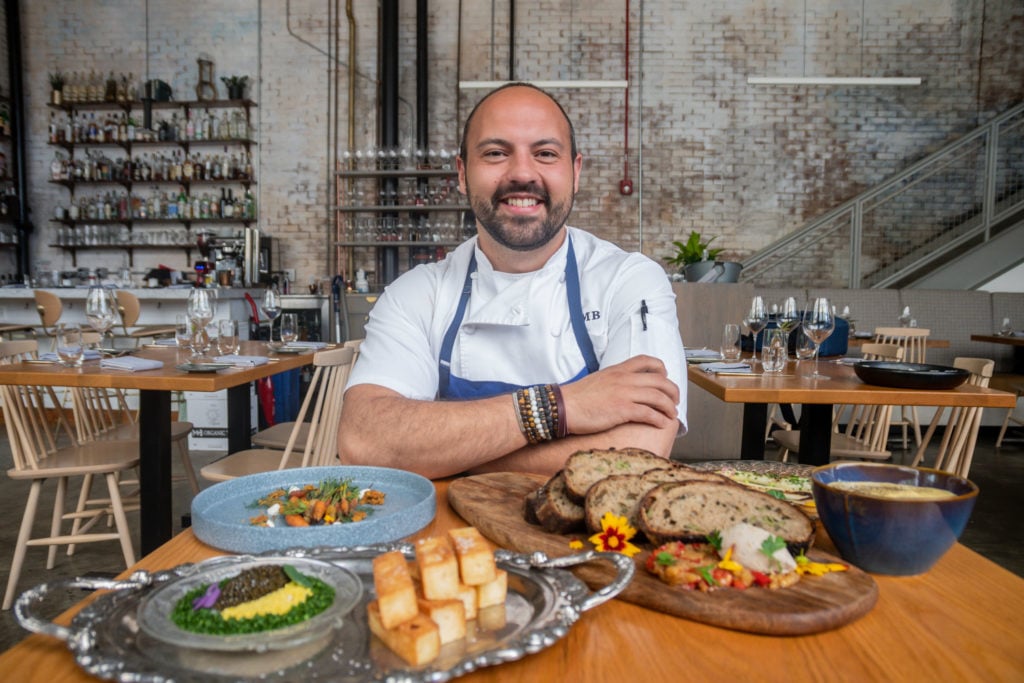 Chef Gravitas to open French-American restaurant All-Day Cafe Eaton DC Hotel
[ad_1]
Gravitas Chef Matt Baker will be opening two new restaurants at the Eaton DC Hotel. Photograph by Leading DC
Gravitas boss Matt Baker is certainly not good at sitting idle. During the pandemic, he prepared take-out food and crafted vacation packages from his Michelin-starred Ivy City tasting room until prix fixe dinners could resume, and held virtual cooking classes then in person. In addition to welcoming a daughter, he has opened Baker's Daughter, an all-day café-market across from Gravitas, and has planned another branch, which will open in Chinatown this summer. What now that the world is slowly returning to normal? Well, it's time to really speed things up.
Baker is taking over the two main dining spaces of the trendy Eaton Hotel in downtown DC, a boutique property that opened in the summer of 2018 with Tim Ma as headlining chef. Ma is currently involved in other projects like Chinese-American restaurant Lucky Danger, which will soon open a second location in Arlington, and new nonprofit chefs Stopping AAPI Hate. The last of the development partners involved in Eaton, Ma says the start is a "natural progression." The American Son Lobby Restaurant and Kintsugi Café will close in the coming weeks to make way for two Baker concepts: Michele's, a chic French-American restaurant, and a third Baker's Daughter location. The latter will open at the end of summer, while the redesigned full-service restaurant is slated for October.
Michele is named after Baker's mother, who died five years ago. Originally from New Orleans, she raised Baker in Houston, but the family returned to her hometown often.
"The two cities have made a big impact in terms of cuisine and culture," says Baker. "In New Orleans, everything you eat is an eye opener. And Houston is such a diverse city – we would have Indians on Wednesdays, my dad would grill lamb at a halal market near us on Thursdays, then Creoles on Fridays, and dim sum for lunch. of Sunday. I loved it.
Baker plans to capture the eclecticism of the two cities at Michele's, all against the backdrop of his classic French culinary training. The centerpiece of the restaurant, designed by Natalie Park, is a twelve-seat raw bar where Baker will serve an omakase-style tasting with 18 bites, somewhat similar to the chef's counter at Gravitas, but with a seafood-centric approach. this will include raw and grilled oysters, caviar and more.
The menus in the dining room and the 30-seat patio, equipped with separate and private seating areas similar to those of the Diplomate, will be à la carte. Raw sea bass will kick in with seafood tricks, caviar service, and dishes like Lagavulin 16 oysters, seaweed mignonette, and cucumber snow. All plates will be designed to be shared. Smaller items can include luxe riffs on French classics, like a gruyere omelet with herbs and morels, or cream united with Maryland crab and grapefruit sabayon. There will also be large-format dishes in all categories, such as whole Vietnamese fried fish or roast chicken with chicken fat Hollandaise sauce. Guests can pair food with new-style wines and modern French cocktails from Gravitas Beverage Manager, Judy Elahi.
For more casual dining and take-out, Baker's Daughter's third location will offer a range similar to the other two: homemade coffees and pastries, breakfast tacos and cookies, bright salads, sandwiches and beer, wine and cocktails at carry. In addition to the lobby space, there will be a walk-in window for ordering food and drink on 12th Street, northwest.
While Ma was initially involved with food and drink for the Allegory Lobby Bar and Rooftop Bar, Wild Days, Baker says the only additional services he plans to provide are modified room service.
Michele and Baker's daughter at Eaton DC. 1201 K St., NO
[ad_2]